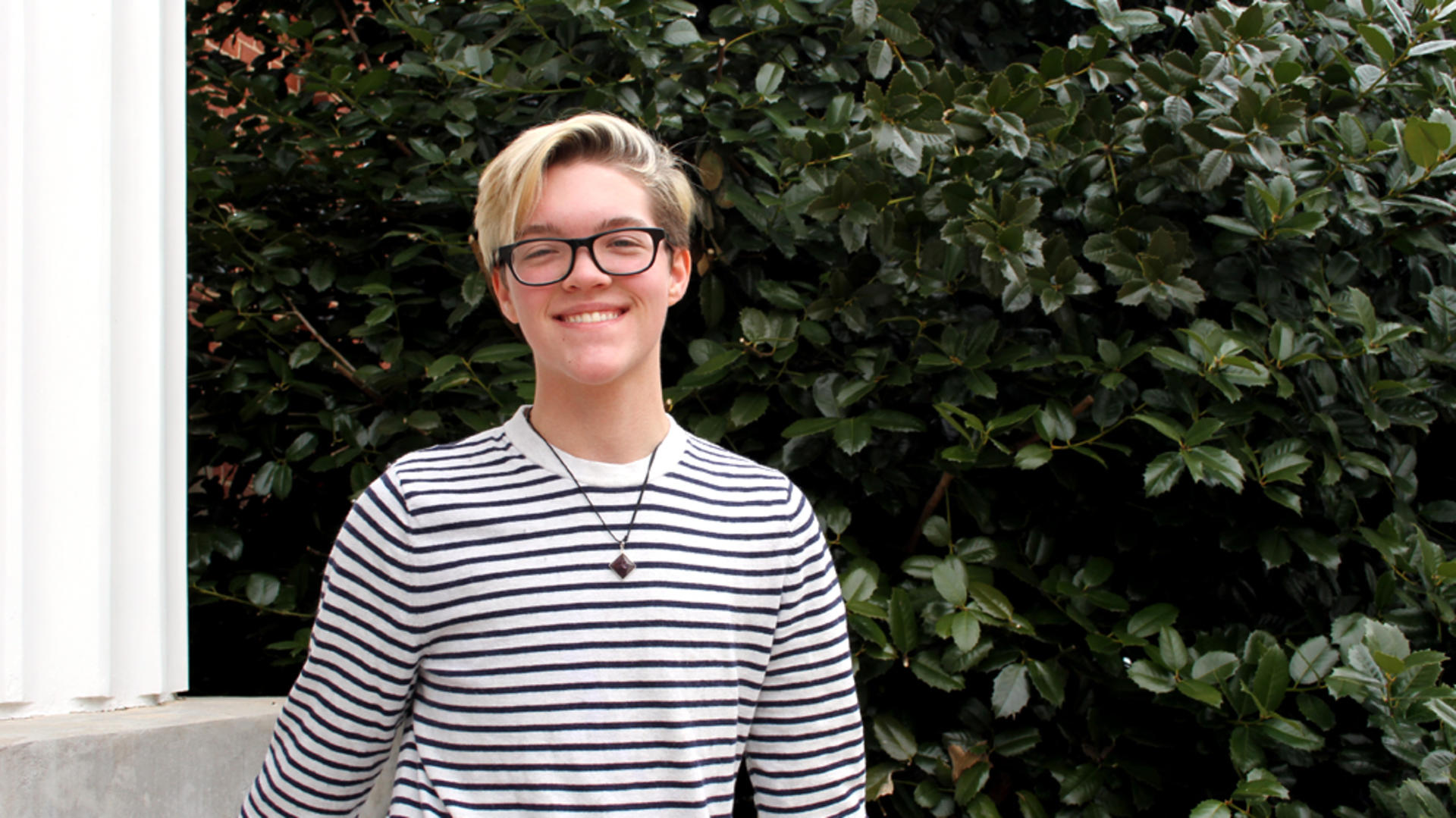 Psychology and German Studies double major Finn Shepherd '21 is technically a first-year student, but as overachieving is kind of his thing, he very well may graduate in 2019. 
A graduate of the Early College at Guilford, which was recently named the No. 1 public high school in N.C., Finn earned college credit early. But if you're thinking he only stayed at Guilford for the transferable credit, you're mistaken. 
"Guilford is a great atmosphere," Finn explains. "It's friendly, relaxed and you get a lot of individual attention. I also received a good financial aid package!" 
The potential to graduate early is only the beginning. Finn is a part of the Honors Program at Guilford, which means he has additional access to seminars, extra-curricular activities and one-on-one collaboration with faculty members on coursework and research. When he's not keeping up with his coursework, attending conferences, or leveraging his database skills as a student worker at the Stars Desk at Hege Library, Finn finds time to hang out with his dogs — Ashlee and Patches — and cats — Petrov and Katya. 
Looking Ahead
For Finn, there is still a lot to look forward to at Guilford. 
"I'm interested in clinical psychology, so I'm excited to continue taking Psychology courses here and possibly apply to graduate programs," Finn says. "I'm also interested in a career that uses psychology to produce market and client research," he explains, "so industry isn't off the table either." 
In today's global economy, it's a good thing Finn is thinking internationally. To complement his German Studies major, he'll be studying abroad in Munich, Germany, in fall 2018. 
How can you accomplish this much and still have time to enjoy being young? Balance is key, Finn explains. 
"No matter how much you want to accomplish, you can't overburden yourself. I learned that the hard way and had to pull back on some things. But if you focus on the activities you're really passionate about, you'll be just fine!"
Are you an ambitious and determined student? Schedule a visit to learn about the Honors Program at Guilford College. 
 
---