Guilford College was honored as one of only five colleges and universities to receive the 2017 Higher Education Civic Engagement Award presented by The Washington Center. Guilford will be recognized during The Washington Center's annual awards luncheon in Washington, D.C., at the National Press Club on Oct. 2, 2017.
 
Guilford College President Jane K. Fernandes accepted the award, joined at the event by Guilford Professor Diya Abdo, founder and director of Every Campus a Refuge, and several other esteemed members of the Guilford community.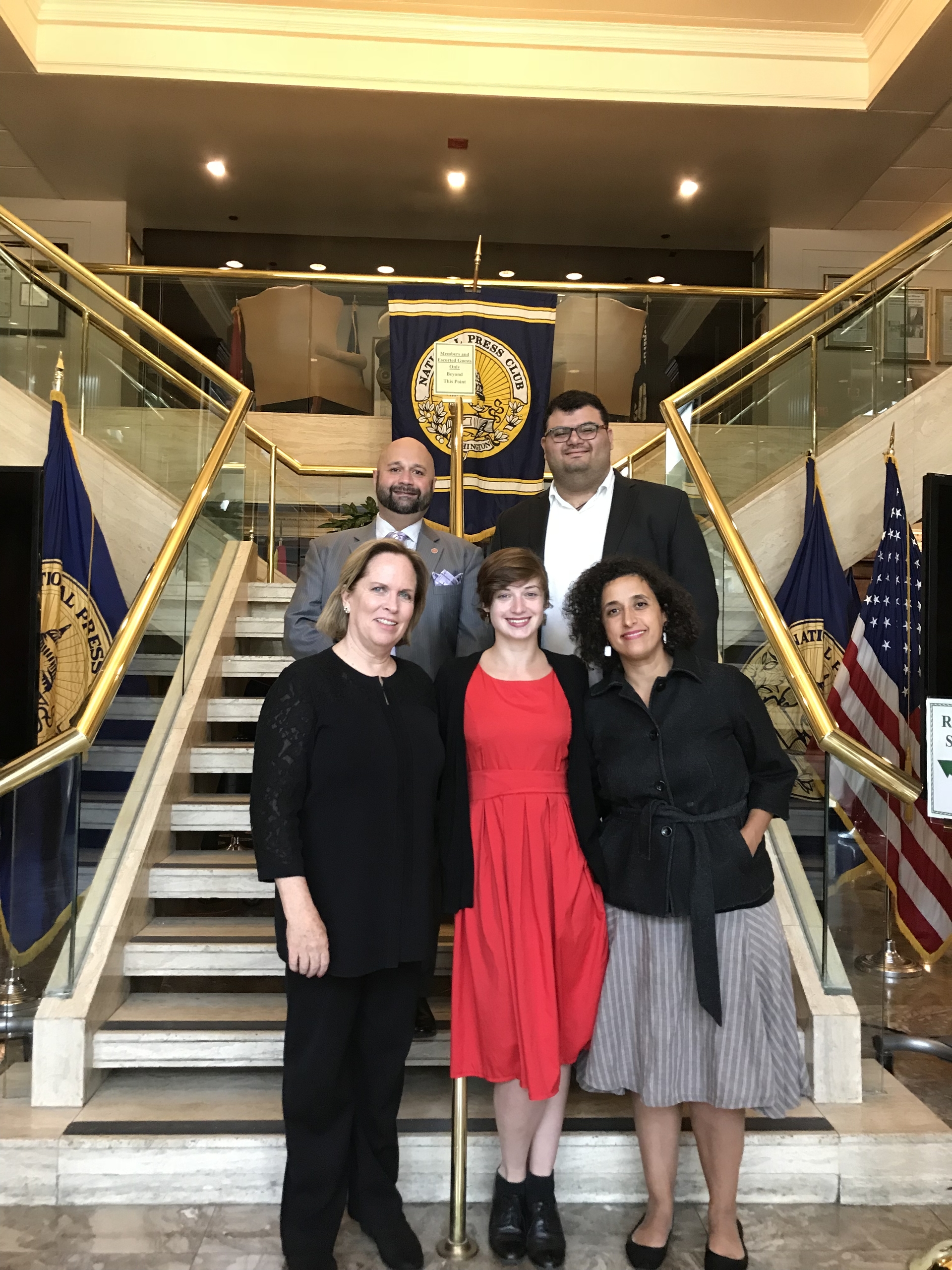 Back row, left to right: Ara Serjoie, Vice President for Advancement, Walid Musaraa '15, ECAR staff. Front row, left to right: Guilford College President Jane K. Fernandes, Hali Rose Kohls '14, ECAR staff, Diya Abdo, Founding Director of ECAR
"We are truly humbled by this prestigious recognition from the Washington Center," said Jane K. Fernandes, President of Guilford College. "Guilford College is fortunate to have incredibly talented faculty and staff dedicated to finding newly creative ways to keep us on the leading edge of meaningful civic engagement. This award further inspires us to enhance and expand our community-building initiatives for greater impact."
The Washington Center for Internships and Academic Seminars established this award to celebrate institutions in higher education — like Guilford — where the commitment to leadership extends into civic roles in the communities beyond their own campuses. The award aims to highlight, in particular, institutions that are forging transformational partnerships beyond campus to define and address issues of public concern, whether at the local, regional or international level. 
Guided by its Quaker heritage and commitment to the practical liberal arts, Guilford College has a long history of civic engagement. Today, Guilford is a groundbreaking leader in the work of assisting in refugee resettlement. Partnering with Church World Service of Greensboro, N.C., the Every Campus a Refuge program provides refugee families with on-campus housing, use of college facilities, and a large community of support.  
Guilford is demonstrating that colleges and universities have everything necessary to support refugees as they begin lives in new communities. The Every Campus a Refuge initiative is just the latest illustration of how Guilford seeks to live out its Core Values of community, diversity, equality, excellence, integrity, justice and stewardship.
The Washington Center Awards committee selecting the honored schools featured leaders in civic engagement:  Mary Marcy, President, Dominican University of California, Chair; Bobby Hackett, President, Bonner Foundation; and Nancy Thomas, Director, Institute for Democracy and Higher Education, Tufts University.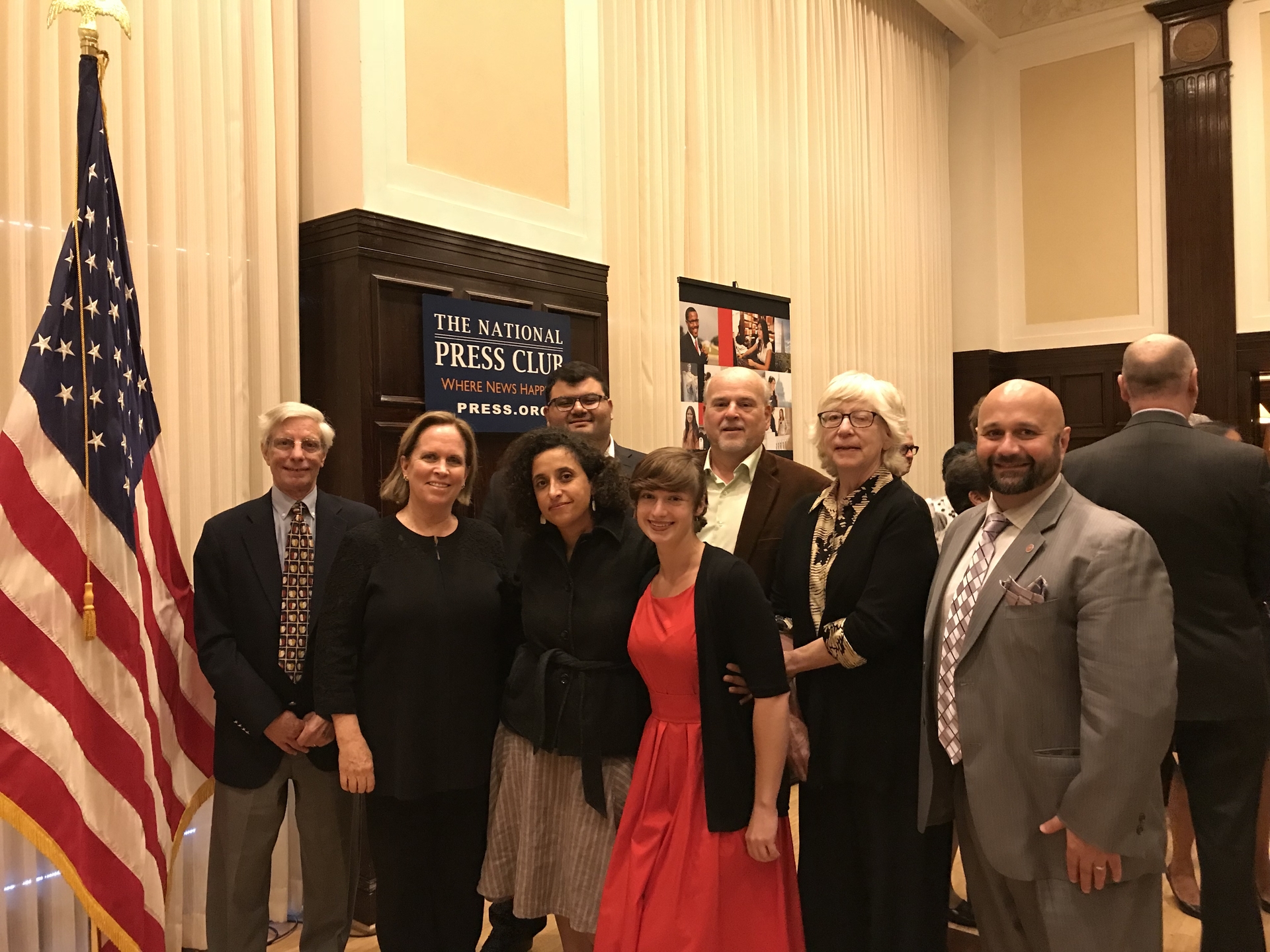 Back, left to right: Walid Musaraa '15, Mark Justad, Dir. CPP, Carla Brenner, trustee, Ara Serjoie, VP, Advancement. Front, left to right: Kyd Brenner, CPP Advisory Board, President Jane K. Fernandes, Hali Rose Kohls '14, Diya Abdo, ECAR Founder
In addition to Guilford College, the 2017 Higher Education Civic Engagement Award will be presented to Keene State College, Northern Arizona University, the School of the Art Institute of Chicago, and the State University of New York, College at Plattsburgh.
---