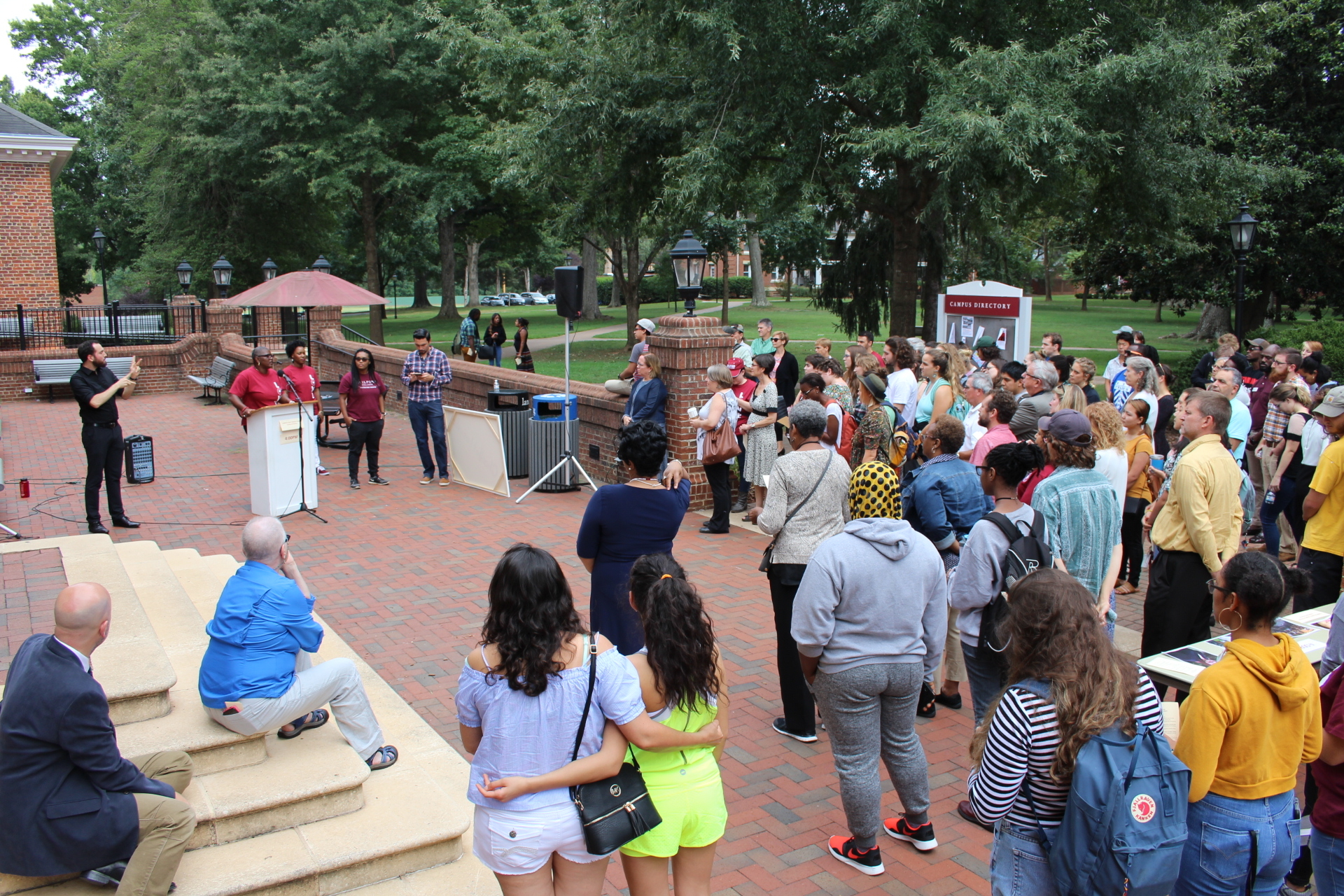 This week's Unity March at Guilford College represents just one small step on what remains a long, difficult journey to create greater equality, justice, peace and togetherness in America. Our response to the disturbing hate and violence on display recently in Charlottesville, Va., must be focused on consistent commitment to meaningful and abundant acts of love.
At Guilford, we believe "LOVE" is most powerfully expressed by Living Our Values Everywhere. That theme was reinforced repeatedly throughout Monday's march, which began on the steps of Founders Hall. 
"There is no I or me in this work," Vice President for Diversity, Equity and Inclusion Barbara Lawrence shared. "There is only we."
Or as Bonner Center Director James Shields '00 stressed, "This isn't about red or blue (states), it's about our responsibility as Americans — as Guilfordians."
From Founders, James led assembled students, faculty and staff on a reflective walk through the beautiful woods on our newly constructed Underground Railroad Tree Trail. We made our way to the more than 300-year-old poplar tree, which stands ever-taller as a compelling and convicting reminder of the unimaginable trials suffered by enslaved Africans. The trail to the tree will serve as a walking history lesson for coming generations, including as part of a curriculum for public school students made possible by a grant from the Tannenbaum-Sternberger Foundation.
The incredible history of these woods serves as hopeful inspiration for what we can achieve by coming together to chart a better future course for America. Through these woods, enslaved Africans found their way to freedom because of blacks and whites working together. 
James says replicating such a profound example of courageous "cross-racial collaboration" today begins with putting our hearts into learning how to care for each other.
In the spirit of Quaker queries, he says it is essential to ask ourselves if we are truly treating each other as we would want to be treated.
"Challenge yourself and challenge each other so that we can come together in real unity," James urged. "Some of us are still looking for that unity — that justice. Don't ask us for peace if you are not bringing justice. What we need is to listen to each other's stories."
Indeed, we were challenged by some of those stories as we concluded our march back at Founders. Students closed our time together by presenting moving reflections about their observations and encounters with hate-filled racism and systemic oppression — imploring all of us to move out of our passive silence by instead speaking up and standing up for what is right. 
Authentically living our values everywhere has never been more important. This is our "we" moment, as James says, to "shake and quake this world for the better."
To learn more about the Unity March and the Underground Railroad Tree and tour, read 300-Year-Old Underground Railroad Tree Stands Tall As Monuments Fall, by WFMY New2 reporter Laura Brache. And check out Following The Trail To A Living Monument: Underground Railroad Tree on WFDD.org, an interview with James Shields '00. 
Be sure to subscribe to Jane's Friendly View to make sure you never miss an update.
---