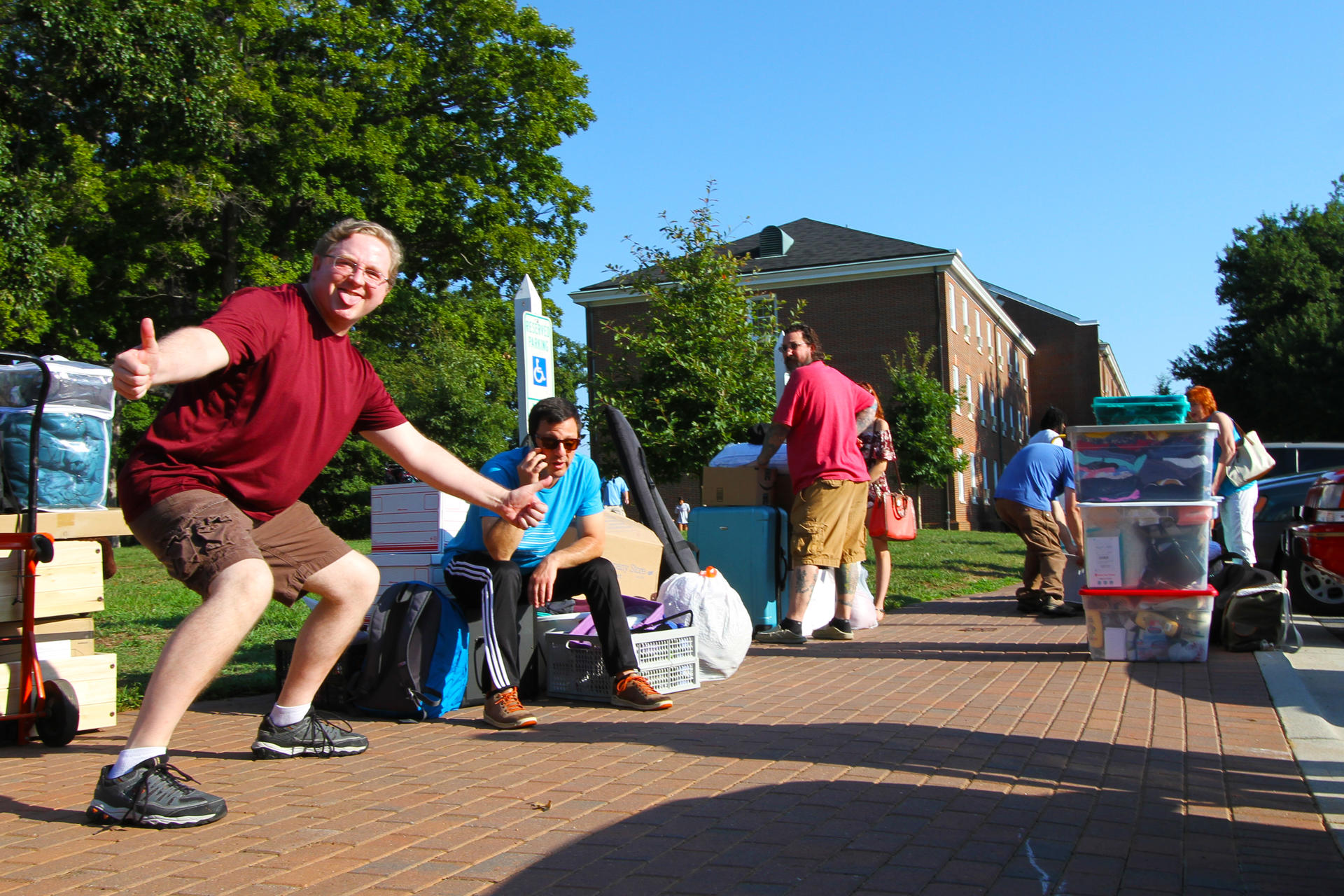 On Move-In Day 2017 at Guilford College, roommates Savannah Pardue and Charlotte Hennessy and Liam Connolly and Brandon Ussrey check in, move in and meet the person they'll share their Guilford home with for the 2017-18 academic year. 
When I came and visited, everyone was just so friendly and the campus is beautiful, and so I joined the Facebook page for the class of 2021 and I fell in love. Everyone was so welcoming!
Today is the day — the one you've been thinking about and packing for ever since you declared "I'm In!" on Instagram. It's 8:30 a.m. on Sunday, Aug. 20, 2017, and you're walking under the shade of the quad's biggest trees toward Founder's Hall on the campus of Guilford College. It's move-in day.
Soon, you'll open the door to your home for the next year, following a group of men in matching shirts as members of Guilford's football team carry boxes, decorations and that extra-long set of twin sheets into your new space, where you finally meet your roommate, face-to-face. 
Fast forward to the present, and roommate pairs Savannah Pardue '21 and Charlotte Hennessy '21 and Liam Connolly '21 and Brandon Ussrey '21 can officially call themselves college students at Guilford, having tackled the exciting and sometimes nerve-wracking process of going off to college. But just a few hours ago, they were in the thick of it and loving every second.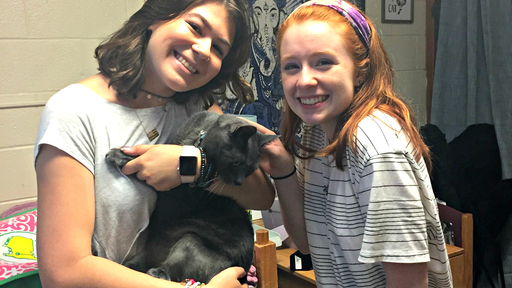 Bryan Hall
Around 10 a.m, things in Bryan Hall were cheerful and giddy. Move-in activities were punctuated by Charlotte's sleek, gray cat, Huck, climbing in and out of boxes and open drawers. Charlotte's mom, Bernadette, is mounting Command strip hangers to the back of the door. Savannah's side of the room is bare compared with Charlotte's, who moved in the day before. Her parents, Wendy and Grey, slide in and out of the over-full space while Savannah smiles from her bed. She's been awake for several hours already.
"I was supposed to get up at 6:30 a.m. and I woke up at 4 a.m. I just can't sleep when I'm excited!" That excitement rolls over from her official visit to Guilford. "When I came and visited, everyone was just so friendly and the campus is beautiful, and so I joined the Facebook page for the class of 2021 and I fell in love. Everyone was so welcoming!"
Charlotte, sitting on the floor with Huck, recalls a similar experience. "I fell in love with Guilford. I think I visited seven times before I moved in! Around the time I committed to Guilford, I cried as I was walking across campus because I was so excited." Her mom reminds her to thank her admissions counselor ("Kyle!" she half-shouts) "Kyle in Admissions helped me so much," Charlotte continues, "as it was pretty hard to leave my small town. But I absolutely love this place."
Charlotte and Savannah already look like friends, gesturing to each other as they talk about what makes them excited for this year. 
"I met Charlotte through the Class of 2021 GroupMe," Savannah explains, "I found out she had the same academic interests as me, which are pretty specific so that was so cool! We met at Spring Into Guilford and hit it off!" 
Both Savannah and Charlotte are interested in forensics. Savannah plans to major in Psychology with a Forensic Science minor, while Charlotte will triple major in Forensic Biology, Psychology and either Sociology or Anthropology. She's also already a second-year Criminology student. 
"It was hard to find a school that would let me design my own major, and that was a big part of the reason I chose Guilford," Charlotte says. "That, and because big, state schools didn't allow me to feel like I could be my own person." 
After a pause, the movement in the room settles for a moment. "I was excited to see Savannah today, I love Savannah," Charlotte smiles.
Yesterday was the big nervous day, but this morning I woke up and thought, all right, let's do this.
Milner Hall
It's 11 a.m. Again, one side of the room is already in place while the other is coming along nicely. Liam moved in yesterday with the assistance of his parents, Nancy and Tom.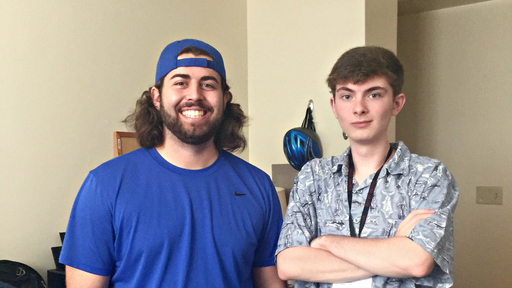 He lounges comfortably against the pillows of his made-up bed, enjoying what he calls his mother's "master organization skills." The quip is delivered with style unsurprising from a Creative Writing major hopeful who imagines one day writing comics and sci-fi novels. He's only been up for an hour and is visibly relaxed, but insists he was nervous yesterday. 
"Yesterday was the big nervous day, but this morning I woke up and thought, all right, let's do this." 
Meanwhile, Brandon folds clothes on his mattress. He's about half unpacked, and his parents, Keith and Natalie, are outside in the hall with Liam's. "I woke up about 7:30 a.m. or 8 a.m, so not too early. I'm ready to meet new people and get to know the baseball team a little more."
Brandon is a student athlete and was attracted to Guilford for the combination of athletic and academic opportunities. "Everyone was really friendly during my visits, especially the baseball coach. And I'm excited to start classes. I think I'd like to major in Health Science and one day pursue a career in medicine." 
Liam also has an interest in health, saying he'd like to complement his Creative Writing studies with coursework that will allow him to explore personal training. Liam and Brandon are as complementary as Savannah and Charlotte are similar. Unlike Charlotte and Savannah, Liam and Brandon were assigned to each other and, aside from texting, are really getting to know each other for the first time today. 
"He seems awesome," Liam says as Brandon laughs. "Yeah, he definitely seems fine," Brandon jokes, "So I can check that off my list." 
With the initial jitters of move-in day starting to subside, these students are getting a glimpse of what their time at Guilford will look like. Over the next few days, Orientation Leaders and school officials will introduce them to what it means to be a Guilfordian. And it'll start to sink in that they've chosen the right place to spend the next four years learning, growing and carving their own paths.
Want to see more photos from move-in day? Check out the Guilford College Move-In Day 2017 gallery!
---