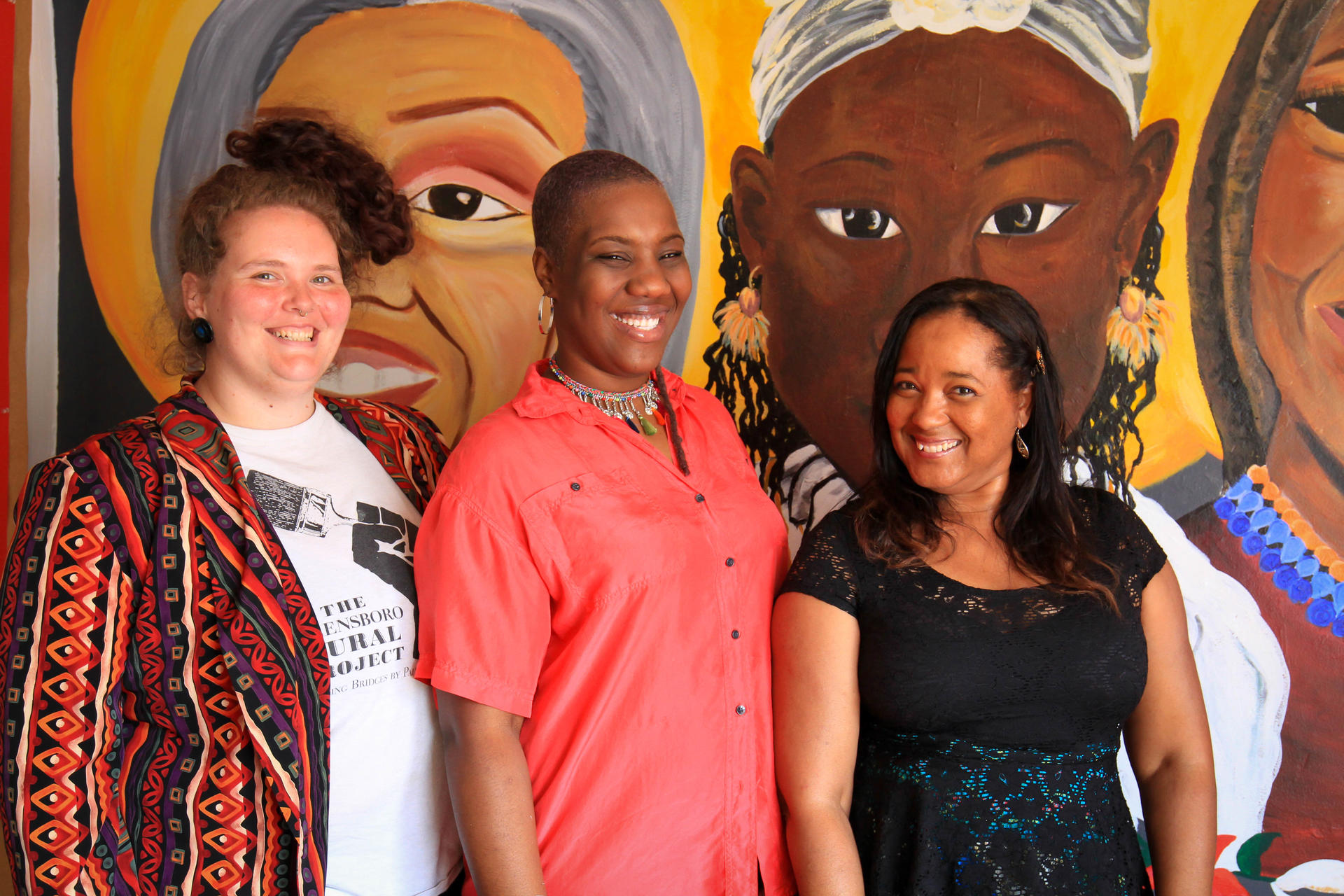 Guilfordians Alyzza, Gloria and Terri are creative with a purpose: They're shining a light on what makes Greensboro a beautiful community. They're part of the Greensboro Mural Project, a series of murals that engage local artists and the community in the beautification and reclamation of public spaces.
Edible Beginnings 
The project was founded in 2011 when Alyzza May '10 and Kat Siladi '10 were working in the Edible Schoolyard at the Greensboro Children's Museum. They discovered that they share an interest in the function of large art and murals in community spaces. "We were inspired by the work of Judy Bacca, Chicana feminist and artist, who worked on a mural in L.A. called The Great Wall," Alyzza says. 
A Peace and Conflict Studies, Sociology and Anthropology and Religious Studies student, Alyzza was driven by the importance of community engagement, especially through work as a Bonner Scholar. 
"Working as a Bonner Scholar taught me how to find creative approaches to discussing and solving real problems in our community." 
Galvanized by Bacca's work and the Edible Schoolyard, Alyzza and Kat decided to plan a mural by asking the community just one question: What would make Greensboro a healthy city? They received more than 300 responses, many from children, inspiring lead muralist Kathleen Kennedy '10 to design the project's first mural in the very spot where it was conceptualized.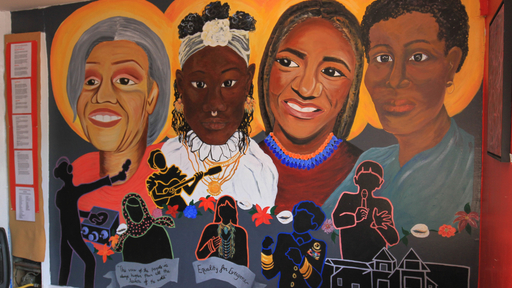 'Wonderful Women and Fabulous Femmes'
Six years later, the project has produced eight murals in addition to the "Lindsay Street Mural" at the Edible Schoolyard. The latest is at The People's Perk, a coffee shop in the College Hill area. It's called "Wonderful Women and Fabulous Femmes" (WWFF), a celebration of inspiring women and femmes.
Terri Jones '18 and Gloria Taylor-Williams '15 are the designers and lead muralists on this latest project. Terri, an Art major, focusing on Painting, and an Anthropology minor, was connected to the project by the former owner of The People's Perk. 
"We were able to involve the community in the process to decide which femmes to feature," Terri says. "After learning about each of the nominated individuals, Ms. Gloria and I came up with the design." 
The process was unique. It involved an open-mic event where the community was invited to nominate individuals they believe should be represented through storytelling and creative expression. The project artists narrowed the 43 nominees down to 12 finalists, which were voted on at The People's Perk. The top four were chosen for portraits — Miss Major Griffin-Gracey, Jessie Barber, Micky Bradford and Bree Newsome — though each nominee is represented symbolically in the mural. 
"I'm inspired in so many ways by the women who were chosen. I'm inspired to be more bold, black and brave. They inspire me to keep fighting for justice, and maybe someday someone will be painting me," Terri says. 
Courage and Conversation 
Co-designer Gloria, a Fine Arts major with a specialization in Oil Painting, was similarly inspired by the courage of the women depicted. 
"Someone like Bree (Newsome) reminds me to believe in the power of courage," Gloria says. "If we can feel that deeply about what we believe in, so deeply that we are committed to do something about the injustices we see around us, perhaps we too can be just as brave."
Gloria was introduced to the project when Kathryn Shields, Associate Professor of Art, encouraged her to get involved. 
"I'm glad members of the Guilford College community have been supportive of the Greensboro Mural Project," Gloria says. "It's great to be able to continue to connect with Guildford alums and the community. I had instructors genuinely interested in my education and professional goals. I appreciate them for that."
Gloria says that art, especially in public spaces, fosters a sense of community as well as an opportunity for dialog.
"To me, that's what visual art does," she explains, "I hope this art encourages people to see and feel the value of what community means. The mural at People's Perk was completed as a collective. I value and appreciate each person that came together to make this mural happen."
Are you interested in using your passion for art to create change in the world? Learn more about the Guilford College Art Department, along with the other majors and minors featured in this article, on the Departments and Centers page. 
---