It's 8 a.m., and nearly all of the more than 400 soon-to-be graduates are standing in loosely amalgamated lines by Founders Hall, adjusting their regalia while balancing pastries and cups of coffee. They duck in and out of their alphabetically assigned places to grab passing friends for a quick hug before things really get started.
Clouds and dew pleasantly temper the morning, but the heat will soon be on with sunny and near-90 degree temps to come. Bagpipes honk in the background - warming up for the processional.
It's graduation day at Guilford.
Aiperi Yusupova '17 has already had a pretty eventful weekend: she delivered a moving student address at Friday's Baccalaureate service. As she got ready this morning, she was thinking of the beginning of her time at Guilford, rather than the end. When remembering what it felt like to finally receive her acceptance email from Guilford, she explained that, "I felt like I'd been given a ticket to a ride toward my dreams."
As the graduating students process onto the Quad, they form two lines along the sidewalk as it curves from Founders, past Mary Hobbs, and stopping at King. Between these lines, the faculty process to the sounds of cheers and applause from the students they helped arrive at this special morning. It's a beautiful gesture, and the elation in the students' faces is obvious.
Once everyone is seated, the invocation from C. Wess Daniels and introductions from President Jane K. Fernandes give way to the commencement ceremony. It was truly, as President Fernandes put it, "a beautiful day and a perfect setting."
Speakers for the Class of 2017 were Theresa Gregory '17 and Mara P. Stern 17, who respectively encouraged the graduates to believe in themselves and to not let feelings of doubt or inadequacy discourage them for following through on passion and a desire to serve.
Mara, reflecting on how it felt to stand in front of her classmates, professors, family and friends, said that "the beauty of this day made all of the hard work over the last four years worth it. I was so proud to address the Class of 2017."
President Fernandes presented Adair Phifer Armfield with an honorary doctorate for her philanthropic work, community leadership, and lifelong dedication to the arts and to higher education, and then introduced the morning's featured speaker, Patricia Timmons-Goodman.
Pat Timmons-Goodman, the first African-American woman to serve on the North Carolina Supreme Court promised a brief speech and delivered a poignant message while holding to her standard of brevity. With a context of civil rights and making our world a better, kinder, more just place, Timmons-Goodman encouraged the graduates to simply "do their part."
By holding fast to "that private conviction," speaking up and standing up whenever injustice is witnessed, and embracing the inevitably winding road of life, Timmons-Goodman reminded Guilfordians that they are part of a "living legend" of learning, social justice, and good works.
On that note, graduates were called to make their way across the stage and into the world to be the forces of light, justice, and service that the student and guest speakers invited them to be. After the last degree was presented , the Lumina Treble Ensemble and Guilford College Choir treated the audience to Shine on Me, a traditional spiritual, followed by the Guilford College Alma Mater.
In closing, C. Wess Daniels sent the graduates, faculty, families, guests, and friends forward, saying "Now is the time to hold up your Light and carry it into the world," in true Quaker tradition.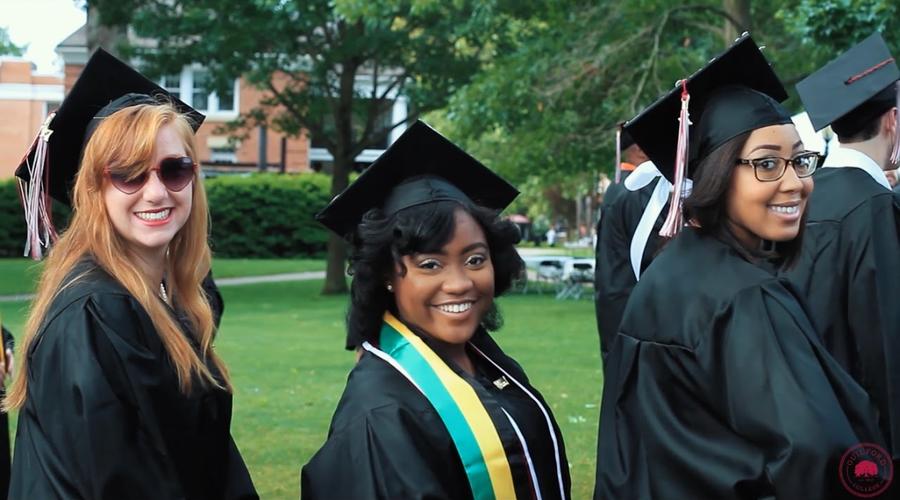 2017 Commencement Highlights
---