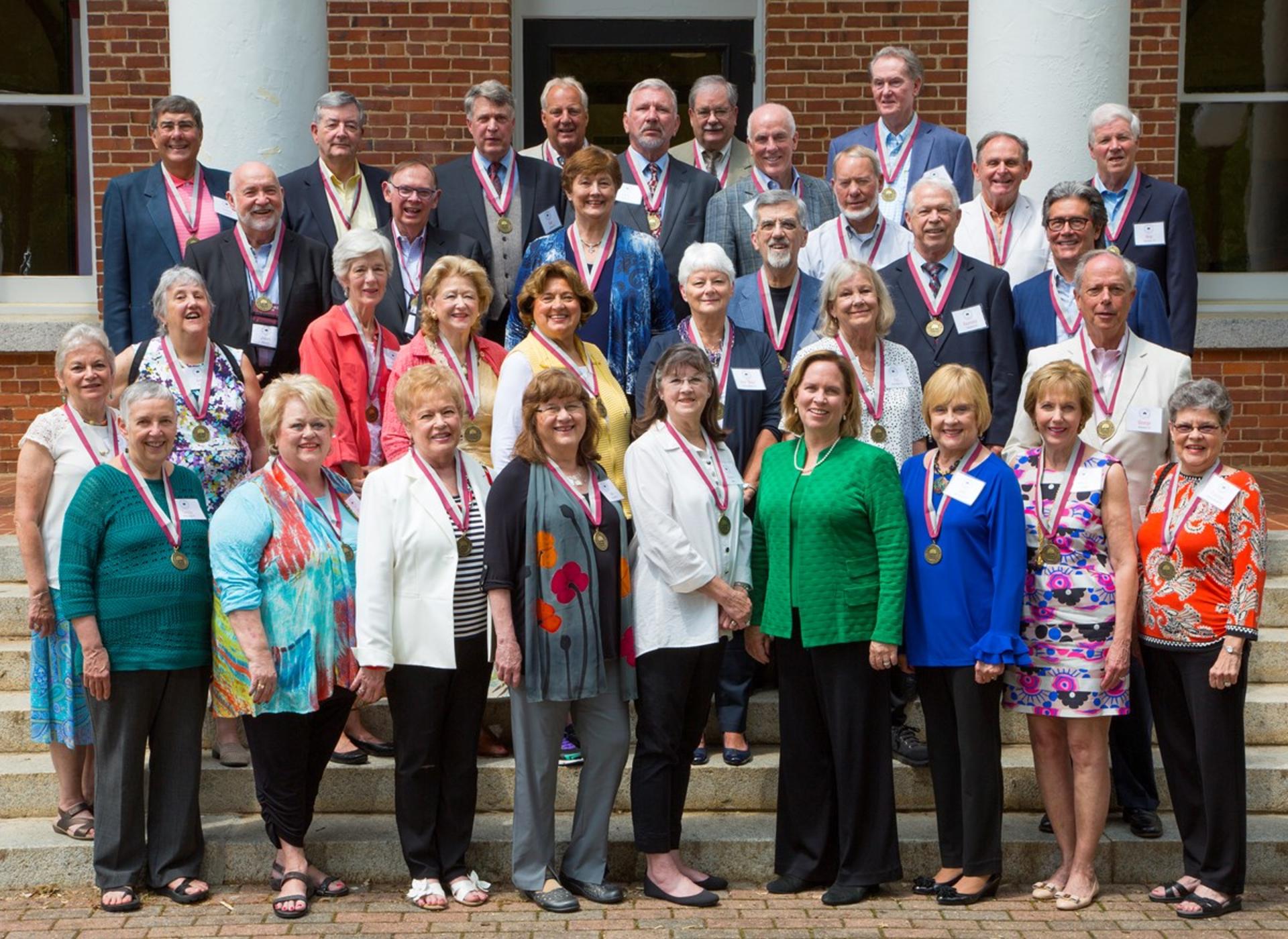 The Guilford campus was filled with stories and memories of college life in the 1960s when members of the Class of 1967 returned to campus for a reunion and Golden Circle induction April 28-30.
About 65 participants, including members of the class, their spouses and friends, took part in a full weekend of activities that featured recognitions, campus tours, special meals and receptions and lots of opportunities to reminisce. Retired professors like Paul Zopf, Rudy Gordh '66 and Herb Appenzeller joined the fun.
On Saturday morning, 30 members of the class were inducted to the Golden Circle, receiving a warm welcome, congratulations and commemorative medallions from President Jane Fernandes in a ceremony in the Carnegie Room.
In remarks at the ceremony, Martha Neas '67 of Concord, N.C., said she "was hardly believing that it has been 50 years since we walked or ran across the paths of this beautiful campus surrounded by wonderful professors and staff who tried to help us keep our feet planted securely while they inspired us to soar in different directions once we left."
Martha, a public school educator and mother of Josh Neas '03, added, "All of the connections that I have had with Guilford as a parent of a student, a committee member and an alumna have reinforced those feelings of community that surrounded me many years ago."
Members of the Class of 1967 pursued many career paths: Bill Deyerle of Roanoke, Va., became a dentist, Alan Kolp, a professor of religion who teaches at Baldwin-Wallace College in Ohio, Anne Harris, a psychologist in Plymouth, Mass., and Danny McQueen, a business leader in Morehead City, N.C.
In his remarks at a Friday evening reception, Vice President for Advancement Ara Serjoie thanked the class for their contributions through their professions and community service.
"All of you have managed to make the world around you a better place while the world around us went through its various stages of crazy," he said.
Students who entered Guilford in 1963 were in college during a significant period of conflict and change in America, including the struggle for civil rights for African Americans and equal rights for women, the assassination of President Kennedy, the Cold War and protests over the Vietnam War.
As part of their reunion, in addition to taking tours of campus focused on sustainability, the Underground Railroad and other aspects of Guilford history, alumni had several opportunities to meet current students.
Gerardo Marcos-Ocampo '18, outgoing president of Community Senate, offered his best wishes to the class on Saturday morning, noting he hoped to attend his 50th reunion … in 2068.
---