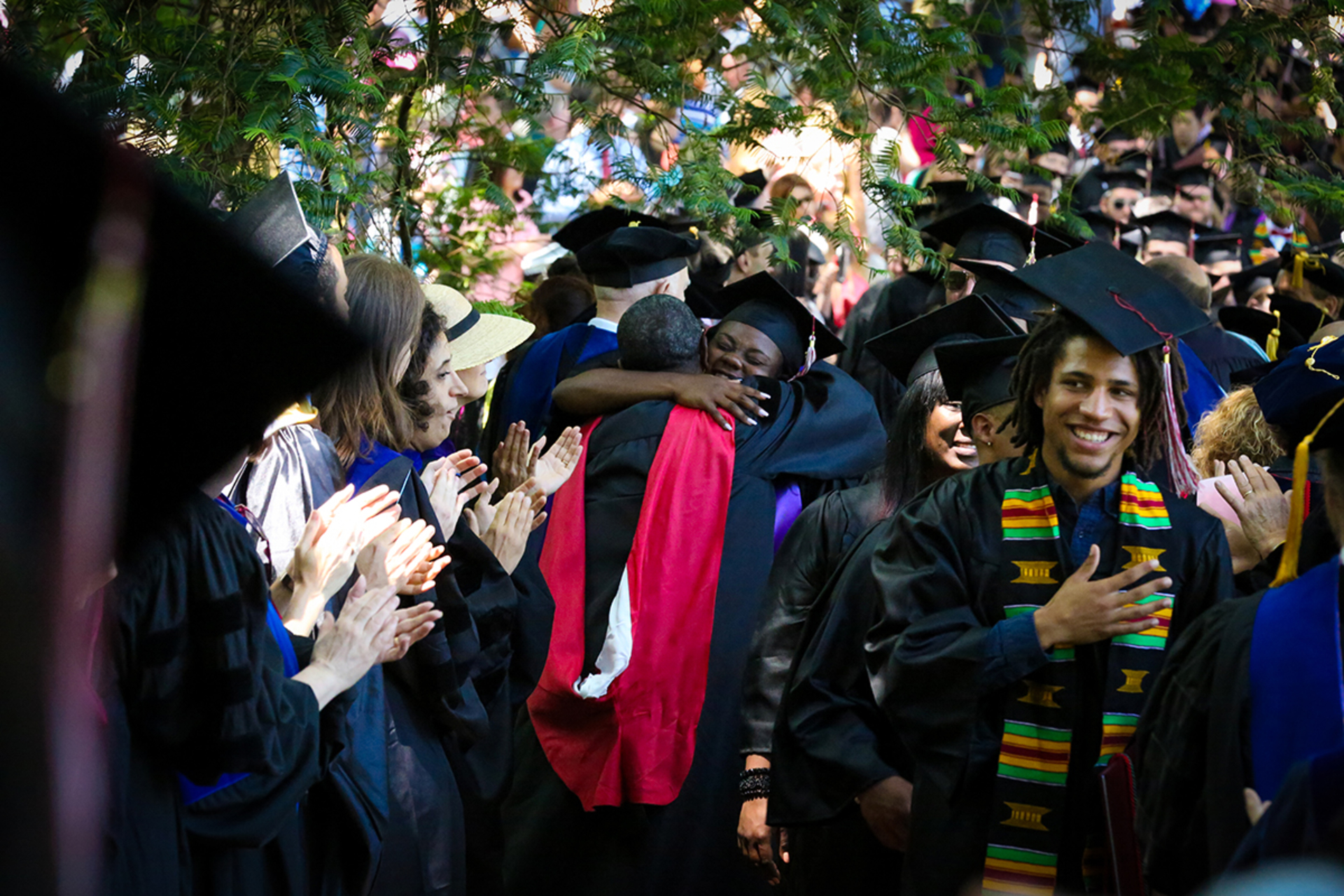 As we prepare to put the exclamation point on another eventful academic year with a jubilant Commencement celebration, I am so proud of the distinguished Guilford graduates representing the Class of 2017.
Our graduates are sure to be inspired by Patricia Timmons-Goodson — the first African American woman to serve on the N.C. Supreme Court and former Guilford College Board of Trustees member — who will deliver our Commencement Address. We will also use this memorable occasion to present local community leader and philanthropist Adair Phifer Armfield with an honorary degree. It promises to be a festive day.
For the past four years, our soon-to-be graduates have enriched our campus community with their many academic and co-curricular contributions and achievements. They are now headed for great destinations around the world — from teaching fellowships in Honduras to prestigious graduate programs like the Columbia School of Journalism to impressive career starts such as medical interpreter. Be sure to take a moment and read their success stories.
Setting a Higher Bar
Just as our seniors are soaring, Guilford College is on the move to reach new heights of distinction.
Exciting, big changes are straight ahead. This fall, we will be launching a fully reimagined educational experience that integrates all the best in liberal arts learning with an unprecedented depth and distinction of up-close, hands-on immersion in the real world.
The grand idea is to ensure our students are engaged in intimate proximity with the issues and opportunities that mean the most to them. Collaborative learning through team-based, multi-disciplinary projects centered on creative problem-solving will define the student experience. Every student will benefit from a personal team of expert advisers dedicated to charting a successful path from day one. We will also rally and renew campus spirit with a much more dynamic and intentionally connected student life experience.
And building on the roots that formed this great College, we will incorporate an emphasis on developing ethical leadership for every student who goes here. Because, at the end of the day, that ethos is essential to creating trusted, globally competent and committed world-changers.
We have much work to do to bring this game-changing educational experience to fruition. And all of us at Guilford College are energized by the task. You can read more about this endeavor on Page 4 of the new edition of Guilford College Magazine. And I look forward to sharing evolving details with you in the months ahead as it all comes together.
Be sure to subscribe to Jane's Friendly View to make sure you never miss an update.
---