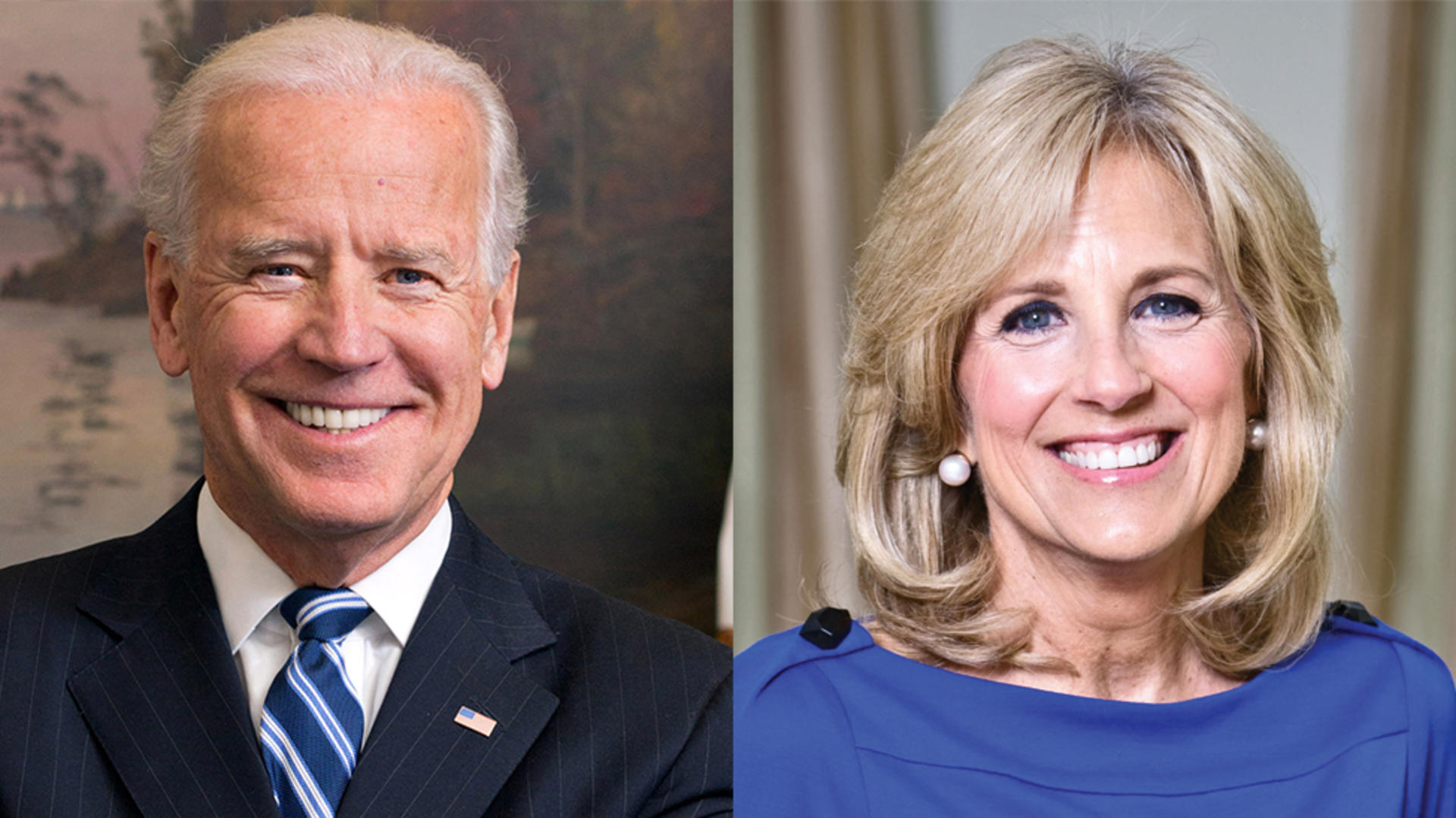 Joe Biden, the 47th Vice President of the United States, and Jill Biden, the former Second Lady and a career educator, will make a joint presentation to lead off the 2017-18 Guilford College Bryan Series at 7:30 p.m. on Sunday, Sept. 17, at the Greensboro Coliseum.
The Bidens have dedicated their lives to public service. Joe Biden served 36 years in the U.S. Senate and eight years as Vice President in the Obama administration. Jill Biden is a community college English professor and advocate for military families and issues of importance to women.
The Sept. 17 program will open a Bryan Series season that includes four other subscription events: neuroscientist and author Lisa Genova on Oct. 25; Tony Award winning actor Leslie Odom Jr. on Nov. 15; broadcast news icon Ted Koppel on Feb. 20; and "Humans of New York" creator Brandon Stanton on April 10.
In addition, religion scholar and author Reza Aslan will speak Jan. 28 in a non-subscription event at Dana Auditorium on the Guilford College campus.
New subscriptions will be available beginning May 8 at bryanseries.guilford.edu. Single-event tickets, if available, will go on sale Sept. 1.
As Vice President, Joe Biden oversaw the infrastructure spending aimed at counteracting the Great Recession as well as U.S. policy toward Iraq up until the withdrawal of U.S. troops in 2011. He helped bring about the 2010 Tax Relief, Unemployment Insurance Reauthorization and Job Creation Act, the 2011 Budget Control Act of 2011 and the 2012 American Taxpayer Relief Act.
As a U.S. Senator from Delaware for 36 years, he was a longtime member and chair of the Foreign Relations Committee and chair of the Judiciary Committee, dealing with issues related to drug policy, crime prevention and civil liberties, and leading legislative efforts for creation of the Violent Crime Control and Law Enforcement Act and the Violence Against Women Act.
In January 2017, President Obama awarded Joe Biden the Presidential Medal of Freedom, with Distinction — the highest civilian honor in the U.S.
As Second Lady, Jill Biden worked to bring attention to the sacrifices made by military families, highlight the importance of community colleges to America's future and raise awareness around areas of importance to women, including breast cancer prevention, all while continuing to teach as a full-time English professor at a community college in Northern Virginia.

Through their Joining Forces initiative, First Lady Michelle Obama and Biden issued a national challenge to all Americans to act and find ways to support and engage our military families in their own communities.
In 1993, after four of her friends were diagnosed with breast cancer, Biden started the Biden Breast Health Initiative in Delaware, which has educated more than 10,000 high school girls about the importance of early detection of breast cancer.
Biden has been an educator for more than 30 years. Prior to moving to Washington, D.C., she taught English at a community college in Delaware, at a public high school and at a psychiatric hospital for adolescents.
On Feb. 1, 2017, the couple launched the Biden Foundation, which is focused on foreign policy; Biden's cancer initiative; community colleges and military families; protecting children; equality; ending violence against women; and strengthening the middle class.
---