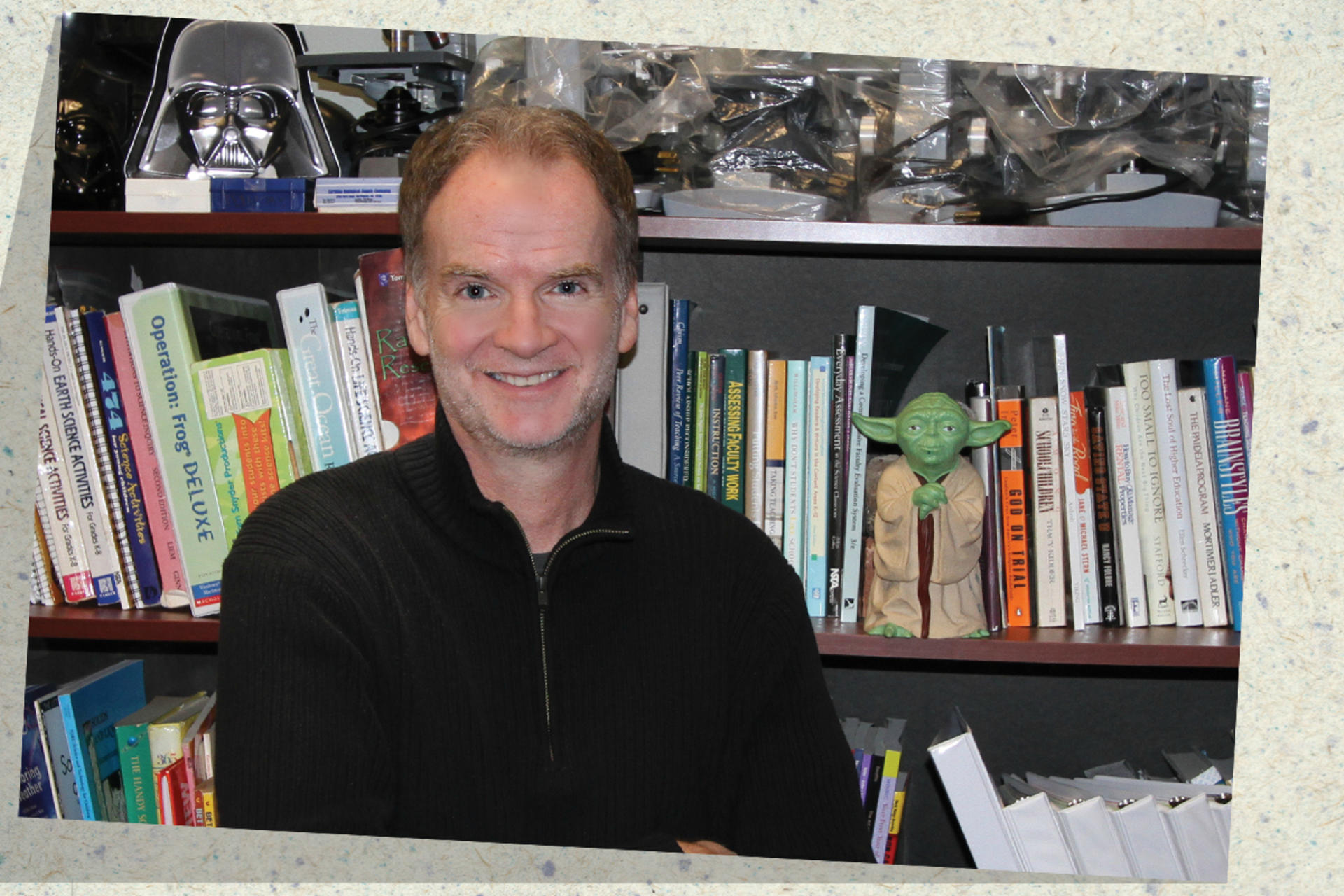 As a professor of Education Studies at Guilford College, David Hildreth is a teacher of teachers — the Yoda of science and education if you will. A family man and avid Star Wars fan, as evidenced by his office décor, it's clear he leaves plenty of room for enjoying life.
"When I was little, I visited my aunt at East Carolina University. She was a professor there. I saw students flying a Frisbee, and that stuck with me. I really wanted to find myself eventually working in ways that allow kids to both learn and have fun at the same time; this is definitely a goal of mine as an educator," he says.
David has learned a lot over the years, earning a bachelor's degree in science teaching with a concentration in biology from UNC Chapel Hill, a master's degree in science education with an additional concentration in ethology from East Carolina University and a doctorate in science curriculum and instruction from UNC Greensboro. He has taught in public schools and was a professor of biology and education at Francis Marion University in South Carolina, prior to coming to Guilford.
Finding a Home at Guilford
David has been teaching at Guilford for the past 17 years.
"I wanted to work at a small liberal arts school where students and faculty could work closely together in learning from each other," he says. "I wanted to be at a school that valued relationships students have with professors. The core values at Guilford are also very important to me."
There are many ways David and his fellow professors prepare Guilford students for careers in public schools. The first thing David does is ask his students why they want to teach.
"The answer should be because they want to help kids," he says. "If they can check that box, I then advise them to volunteer to get a sense of what the public schools are really like."
Student-Teacher Stars
"Principals at area schools often call Guilford to recruit our education majors because they are that good. After our students complete their student teaching, the public school students often do not want them to leave because of the impact they have made in their lives," he says.
"One of my favorite things to do is to see my students teaching. Seeing them out in the schools making an impact on often marginalized and less supported students is very rewarding."
David is currently on sabbatical, taking special education classes at UNCG to develop a course for Guilford. He's enjoying the change in his schedule, but he is always focused on the end goal.
"Working in the schools is hard, but at the end of the day you've got to reflect on what you've done to help kids have success," David says. "That's how we roll here at Guilford."
Is it your dream to become a teacher and change lives — in U.S. schools or abroad? Learn more about the Education Studies major, and watch a video about a Guilford student who is planning to use her double major in History and education to teach in another country after graduation.
---