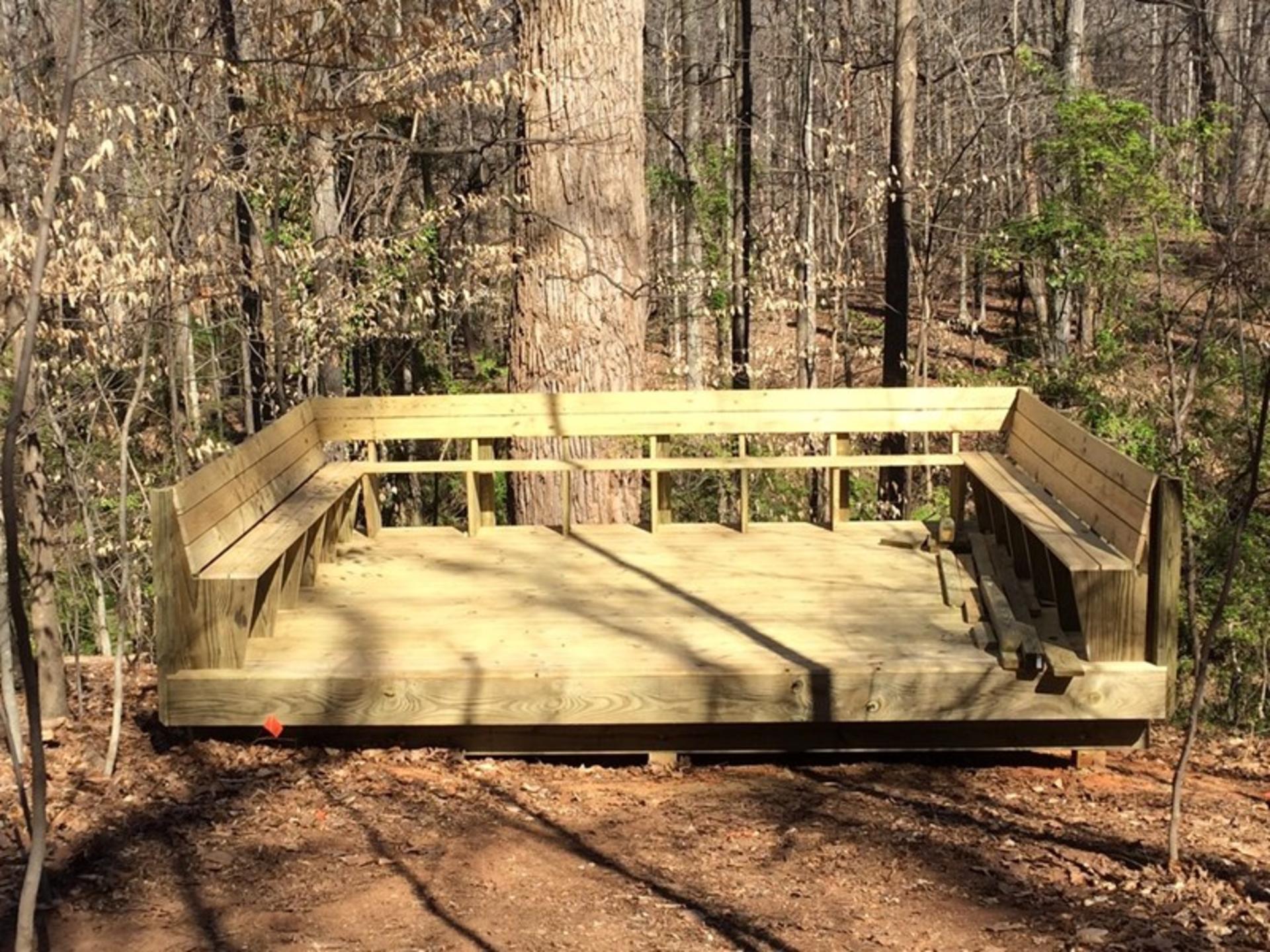 In December 2016, it was reported in the Guilford Beacon that the Greensboro Fat Tire Society had made a barter arrangement with the College to use a classroom for learning about building "sustainable trails," and then our woods as their laboratory to build such a trail for us. This was a special and deeply appreciated gift, and fortunately some of our staff were trained at that time. They learned, among other useful things, that a "sustainable trail" is one that keeps people on the trail and water off.
There was a Community Work Day on March 1 to continue, guided by trained staff, where the Fat Tire Society left off. The group didn't quite finish the trail that day either, but it is certainly defined now and can be easily followed, beginning at the big beech tree beyond the lake on the left, across from a fork in the road to the right. The trail building will continue as staff schedules permit.
Meanwhile, a viewing platform has been built in front of the Underground Railroad Tree, where the trail ends. It has a railing and seating on three sides, and is firmly planted such that it is purposely difficult to reach the tree. Although this may be disappointing to those who have loved standing around and touching it, the platform protects our precious tree. Erosion over time around the 300+ year old tulip poplar, a "silent witness" to the activities of the Underground Railroad, has made the platform advantageous to both the tree and its observers.
With secure footing and seating now possible on the platform, groups will be better able to linger and reflect on the tree itself and how it symbolizes the brave and creative collaboration between black and white persons in the 19th century who were committed to resisting the evils of slavery. In fact, author Fergus Bordewich in his book Bound for Canaan: The Underground Railroad and the War for the Soul of America (2005) stated, ". . .the Underground Railroad is no more 'black history' than it is 'white history': it is American history, and it swept into its orbit courageous Americans of every hue. It was the country's first racially integrated civil rights movement. . . one of the most ambitious political undertakings in American history."
Interpretive signs currently being developed will allow self-guided tours, but the College also offers - as guides are available - group tours for any age. Eventually, there will be tours given to public school children - the onsite segment of a curriculum being written through a College and public school partnership. This curriculum and the platform described above are funded by the Tannenbaum-Sternberger Foundation based here in Greensboro. To schedule a tour, please send a message to undergroundrr@guilford.edu or call 336.316.2442.
---