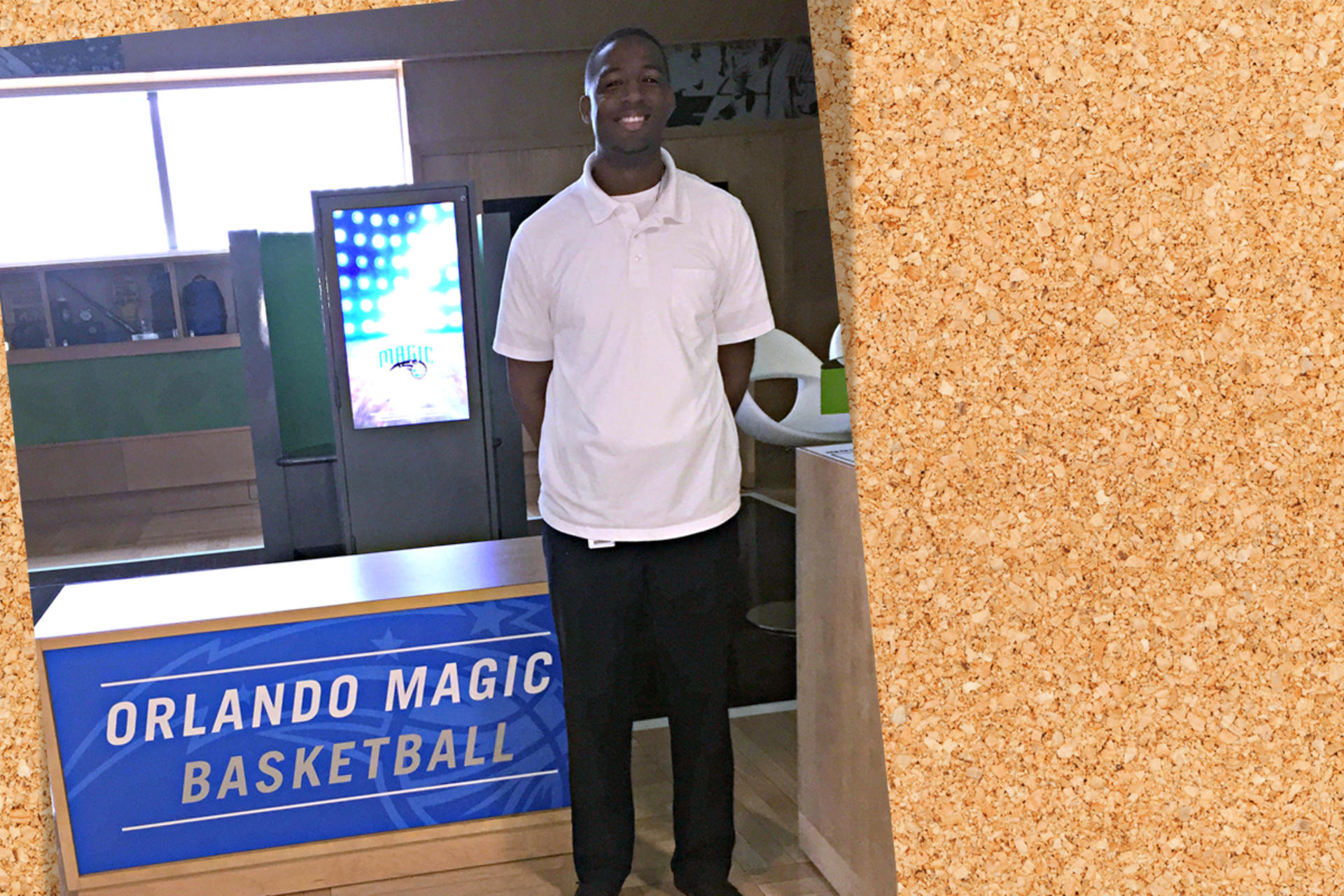 Kevin Tiller '14 has lived two Cinderella stories in Orlando — but only one of them happened at Disney World.

A Business Management major with a Communication minor, Kevin wanted to be the first Guilford College student to work at Disney. His dream came true via an internship at the park in the summer of 2012.
In the fall of 2016, Kevin landed a basketball operations associate position with the NBA's Orlando Magic, where he had dreamed of working for the prior four years. "I help the Magic with film, scouting and other miscellaneous jobs," he says.
But his success wasn't just like magic. "I had been applying since my junior year of college," he says.
Continuing Education
After Kevin graduated from Guilford, he earned a job at Virginia Commonwealth University, where he was director of student athlete development for the men's basketball team.
And in 2016, he earned a master's degree in sport leadership at VCU, where he also completed a two-year graduate assistantship. As a graduate assistant with VCU men's basketball team, he helped with film, basketball related activates, and helping young people in the community and hospitals.
Guilford Days
Kevin is passionate about helping others reach their goals whether it's inspiring disadvantaged children in the community or mentoring basketball players.
"I don't care about money, status and fame; I just want to help people." He credits his belief in God and Guilford's seven Core Values for how he approaches life.
"One of the biggest misconceptions is that you have to go to a big school do something big in life. My friends and I started our own record label and clothing line. I studied international business in Shanghai. Now I'm realizing my dream of working for the NBA," Kevin says. "Guilford was the best decision I made in my entire life."
Are you looking for an intimate college experience that offers big opportunities? From internships to studying abroad to multiple ways to get out in the community, Guilford College is the right fit for you! Register for a campus visit to meet faculty and students and learn more about us.
---