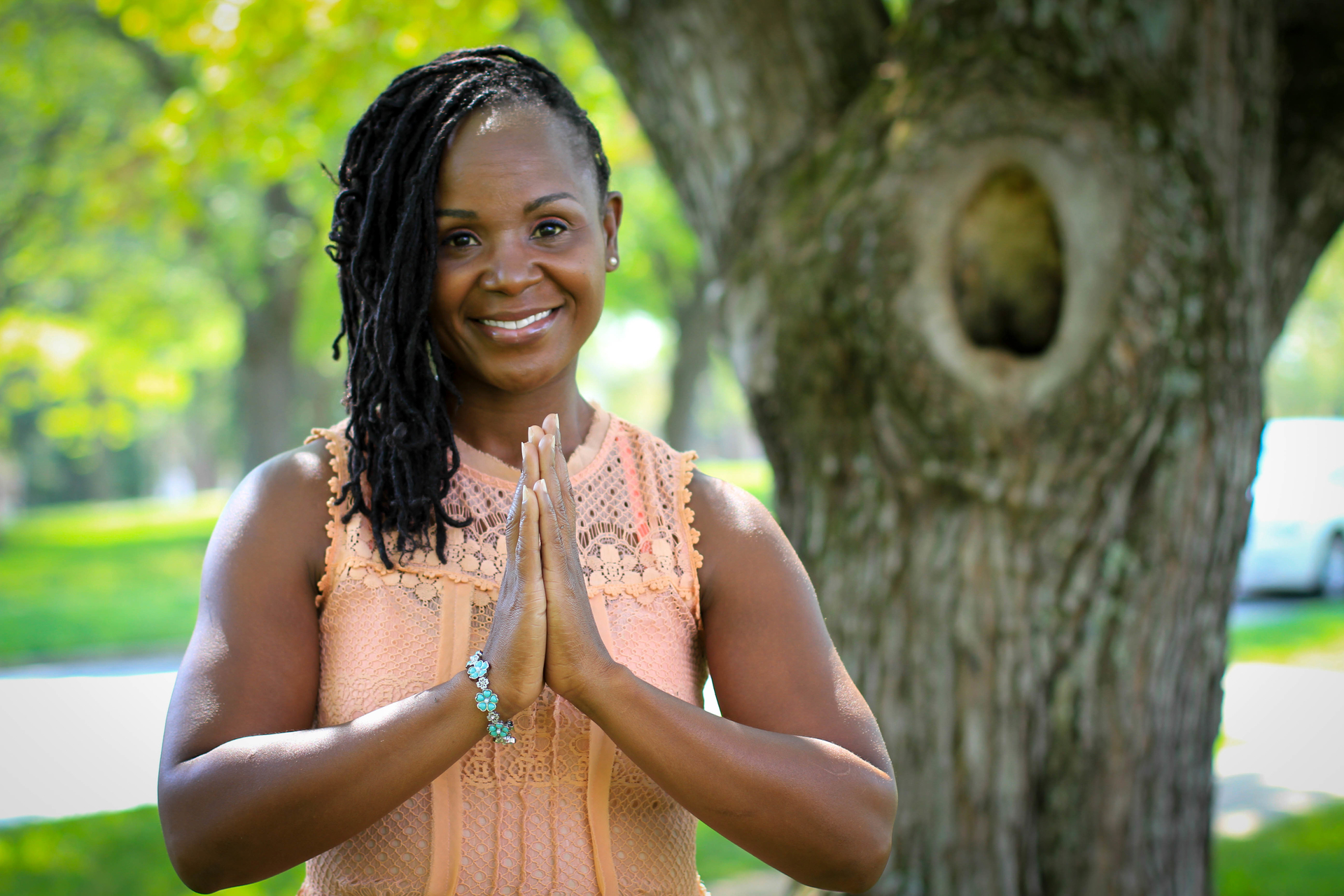 Her name is Maureen Smith '17. But virtually everyone on the planet calls her "Sunshine." She's carried that nickname her whole life—since her brothers gave her the moniker when they were little kids playing church. She lives up to her name with a consistently sunny disposition and a genuine desire to be a light for others. On April 3, her bright presence saved a man's life.
The 47-year-old Guilford College CCE student majoring in Religious Studies says that day began with her feeling a profound sense of peace. As her Quaker Spirituality class closed with its traditional three minutes of silence, Sunshine was moved to stand and share what she was sensing.
"I told the class that I felt disarmed and powerful—not disarmed and vulnerable," she says. "In that moment I believed there was an innate armor protecting me." She told her classmates that she loved them and gave everyone a hug as she left class.
Sunshine immediately proceeded to meet a friend at a local restaurant, even though the restaurant was not one she favored to say the least. During their conversation, she shared the importance of "being centered" and how to be "more present in the moment."
That's when she heard a loud noise coming from a nearby booth that was just out of her sight. Then she heard a scream that prompted her to immediately investigate. She found a man lying in a pool of blood, who had apparently hit his head on the corner of the table. Sunshine sprang to action.
"I yelled out asking someone to get me towels so I could try to control the bleeding as I checked his pulse," Sunshine recalls. "He had no pulse and I started doing CPR. About 30 seconds later he started breathing, but he was still unresponsive."
Sunshine says the man then started convulsing. So she turned him onto his side so he wouldn't choke. He began to open his eyes and his breathing became regulated; but he remained unaware of what was happening.
When Greensboro emergency medical services arrived, Sunshine spoke to the man's wife and learned more about the heart-wrenching circumstances of the day. The husband and wife had come to the restaurant just minutes after the man had learned he had an inoperable brain aneurysm located between his eyes that would quite likely take his life at some unpredictable point.
It turns out that the man hit his head precisely on the point of that aneurysm. And, in effect, because of the blow, the aneurysm erupted and blood gushed out of his forehead—instead of a catastrophic internal bleeding. As a result, following the restaurant incident, doctors were able to clamp off the spot of the aneurysm. And he no longer faces the threat of a fatal aneurysm.
Sunshine learned of the man's remarkable good fortune, upon visiting he and his wife at the hospital two days after the event. "She cried and thanked me for giving her husband back," Sunshine says. "I told her it was their miracle."
Looking back on the event, Sunshine doesn't consider herself a hero. Her knowledge and experience as a CPR instructor were obviously vital. She learned CPR several years ago while doing overseas humanitarian work with the Red Cross. But she firmly believes there was something—or someone—much stronger than her guiding every move she made.
"I didn't really know what to do," Sunshine says. "But I heard a voice that led me to each of the things that happened—how to hold the towel, what to do with everything that was going on."
Sunshine says she has always had a strong faith, but what happened in that restaurant has deepened her convictions in profound ways.
"It definitely increased my faith in God," she says. "To witness a miracle is one of the most powerful experiences that you can have. Since that day I'm at a whole different level of peace—a supernatural peace. I just live by faith, following that voice."
And as she prepares to graduate, she is listening closely to where that voice might be guiding her. Even before her life-saving encounter with a stranger, she has been contemplating the pursuit of medical school. And now she's thinking about it even more seriously. Regardless of the path she chooses, Sunshine knows what her focus must be.
"It's all about being present where you are—and being disarmed," she says. "That's my takeaway from all of this."
---