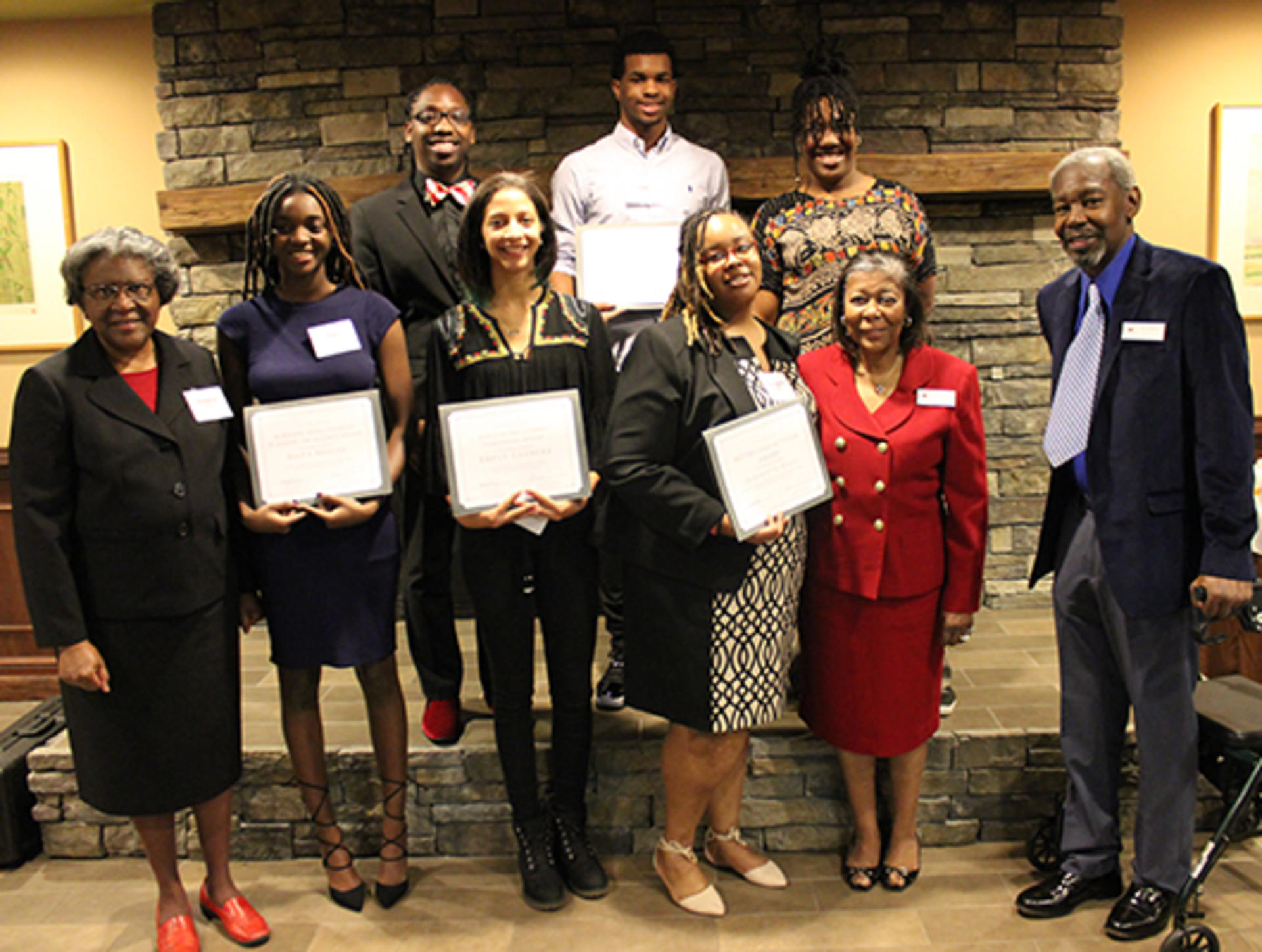 For the fifth straight year, students, alumni, faculty and staff celebrated Black student achievement at the Journeys in Blackness Banquet on campus March 4.
More than 90 people attended the event in the Gilmer Room of the dining hall, named for Doug Gilmer '16, a long-time staff member who was an advocate for students.
Seven students and three staff members received awards, and recipients of the BOOST Merit Scholarship given by the Black Alumni of Guilford College (BAGC) were recognized.
James Beverly III '90, a member of the Georgia State House, gave the keynote talk, "Row the Boat," encouraging attendees to engage as positive community builders. James played a role in establishing the BAGC more than 10 years ago.
Najha Zigbi-Johnson '17, an Honors Program student, made remarks about her Guilford experience. David Wheaton '15 performed on saxophone.
David '70 and Tanya '71 Feagins and Wesley Reid '85 spoke on their commitment to funding the BOOST scholarships, and April Langley '19 offered thanks as a current recipient. George "Scooter" Brown '89 encouraged all to give.
Toiya Hancock '93, president of the BAGC Advisory Board, and Celene Warren '19, president of Black Student Union, were emcees. Ara Serjoie, vice president for advancement, offered welcoming remarks.
Award recipients were:
Mary Milner Staff Leadership Award — Darryl Hylton and Tim Johnson
Ed Lowe Faculty Teaching Excellence Award — James Shields '00
Afro-Latinx Student Leadership Award — Emely Cabrera '17
Douglas Gilmer Freshman Leader Award — Corey Clemons '20
Nettie Coad Activism Award — Rehshetta Wells '17
Adrienne Israel Student Academic Excellence Award, selected by MED — Maya Moore '20
African American Studies Award, selected by AACS — Daniel Hitesman '17
Karen Tinsley Psychology Award, selected by Psychology Department — Chapelle Johnson '18
James McMillian Art Award — Terri Jones '18
BAGC BOOST Merit Scholarship recipients are Najha Zigbi-Johnson '17, Rehshetta Wells '17 and April Langley '19.
---