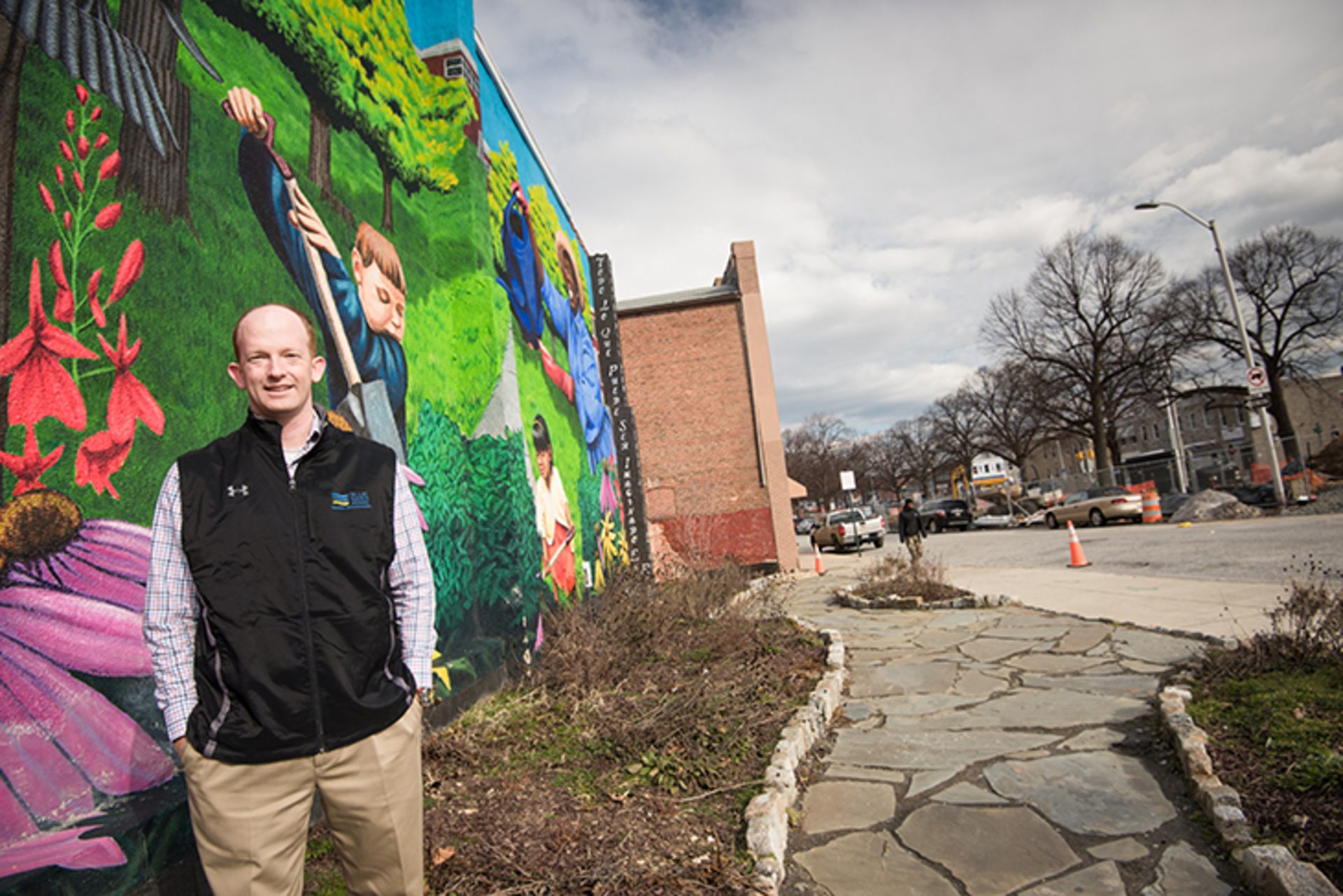 Deeply scarred by the tumultuous and violent events of 2015, Baltimore is a city in need of healing. Carl Simon '07 is doing his part to rally people, restoring community in healthy and green ways.
Carl is director of programs for Bluewater Baltimore, a leading environmental restoration nonprofit. He manages and supports stormwater and forestry programs, playing a leading role in community outreach, government partnerships and fundraising.
"It is very rewarding to work at a small, innovative nonprofit organization working to improve the environmental health of Baltimore's underserved communities," Carl says. "The way we are approaching this important effort is critical, by investing in a bottom-up approach that puts the residents and communities we are serving first."
Carl is especially enthused about his most recent partnership, the Library Square Project. The $500,000 initiative will treat more than half an acre of stormwater through three large rain gardens, permeable pavement and other sustainable features. Culminating this spring, it will result in a revitalized and beautiful public space for children's recreation, library programming, and use by churches and other nonprofits.
This is precisely the kind of community project that reveals the beauty of Baltimore and its people.
"Living in Baltimore is a real inspiration," Carl says. "We are a spirited city of neighborhoods with genuine relationships at the block-to-block level. The city is creative, dynamic and edgy — in a fun and exciting way. That's why I love working here."
Prior to joining Bluewater, Carl worked six years for the State of Maryland in the Chesapeake Bay restoration field following a year of AmeriCorps service with Habitat for Humanity. Holder of a master's degree in public administration from Syracuse University, Carl is grateful to Guilford for providing strong preparation in Environmental Studies and Political Science, teaching him how to write exceptionally well and strengthening the values that drive his life.
"I firmly believe in pushing forward and not accepting the status quo," Carl says. "That is a critical mind-set to get anything significant done, and Guilford helped inspire this way of thinking."
---