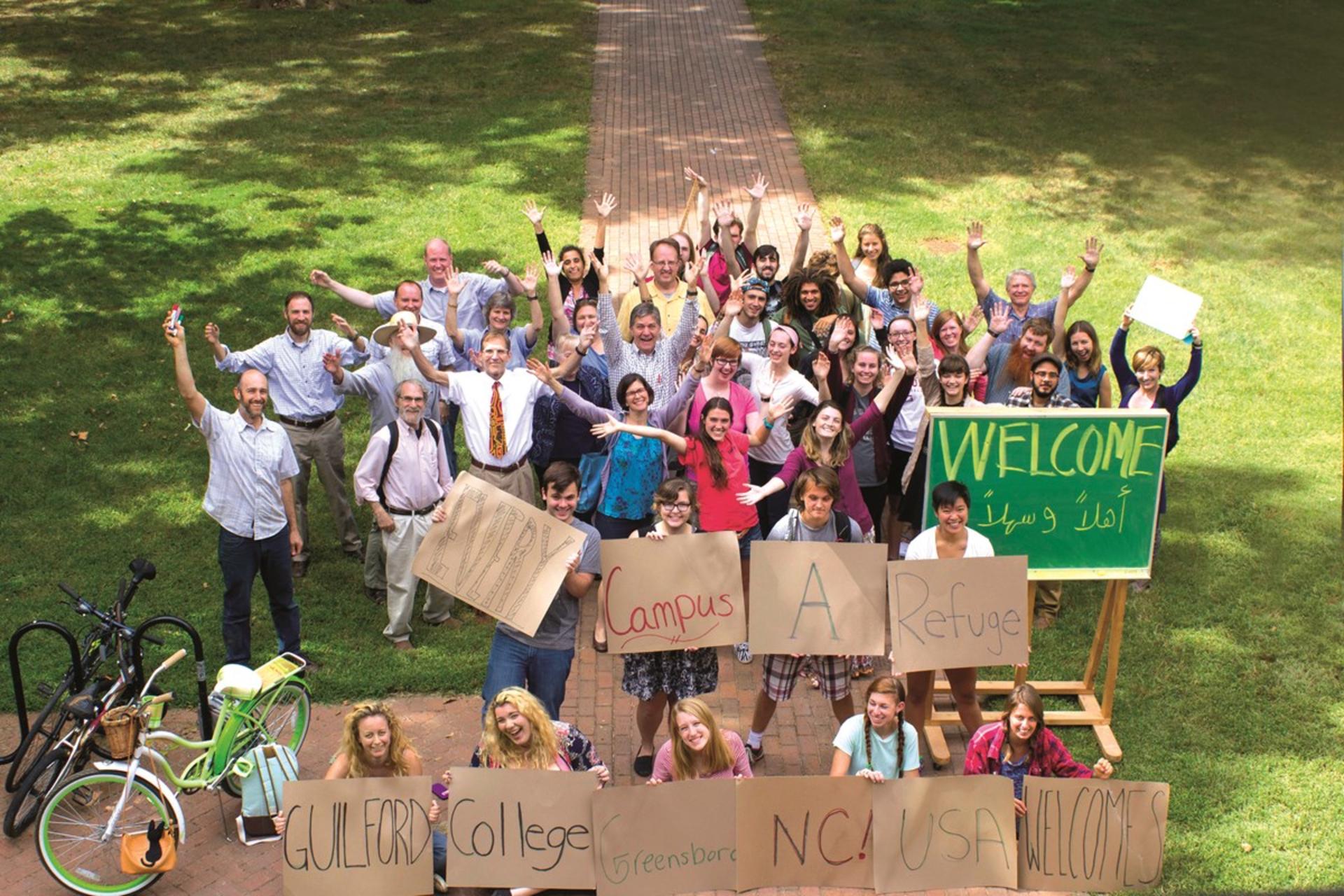 Every Campus a Refuge was born out of a double impulse — a deep despair for the plight of the millions of refugees daily risking their lives and their children's lives to escape violence and a deep dedication to the possibilities of Guilford College's impact on the world.
The image of little Alan Kurdi's body resting on the surf and the sight of thousands of dispossessed human beings, journeying countless dangerous miles on foot only to be trapped in trains, in holding camps no better than prisons and on the borders of inhospitable nations, made me question what it is we do here at Guilford and why we do it. How useful in the world are we really?
Thankfully, this question very quickly found an answer. And the answer came from the likeliest of places: Guilford's own tradition of "radical hospitality."
When, in September 2015, Pope Francis called on every parish in Europe to host a refugee family, I was immediately struck by the similarity between parishes (small cities or towns) and university and college campuses which, given the nature of their material and human resources, are very much like small cities. In my native Arabic, the word for university campus, a word important in Islamic discourse, is "haram" — sanctuary, refuge.
I had to do no more than look at the history of Guilford, its Quaker founders, and the ground on which it stood, to see that it had already been a city sanctuary, a campus refuge for those fleeing injustices, those forcibly displaced and dispossessed.
Guilford's woods were part of the Underground Railroad, Japanese-Americans found a safe haven here during World War II and Montagnard refugees stayed in Mary Hobbs Hall one summer in the early 2000s.
Every Campus A Refuge is the 21st-century manifestation of what Guilford has always been and I hope always will be: a physical space animated by the spirit of the justice-driven and hospitable people who inhabit it — both within its borders proper (its students, faculty and staff) and beyond (its alumni, friends, partners, local community and global family).
So it is no surprise that President Jane K. Fernandes readily agreed to my request when I asked her if Guilford could provide temporary, on-campus accommodations and assist in the resettlement of a refugee family coming to Greensboro. And it is no surprise that her "yes" was unsurprised — as if I had asked her the most commonsense question in the world.
"Of course Guilford should house refugees. It's who we are; it's who we have always been."
Every Campus A Refuge quickly became a Center for Principled Problem Solving initiative, and the fall semester was spent educating our community through panels, informational sessions and a film screening; establishing partnerships with local refugee resettlement agencies; and generating support in the larger Greensboro community.
In January, we received our first newcomer; since then, we have also received a family. Our partnering resettlement agency trained more than 40 student, faculty and staff volunteers who are assisting our newcomers in a myriad of ways.
We are setting up housing, welcoming at the airport, providing transportation to health and government appointments, collecting donations, providing translation services and sharing meals. In the process of volunteering, our students are learning about forced displacement, refugee resettlement and the lives of immigrants in Greensboro.
"This invaluable, one-of-a-kind, place-based educational experience, connected as it is to real rather than theoretical people, will transform our students' lives and, through their efforts, will make a positive impact on these issues."
Students also are involved in other powerful educational components of Every Campus a Refuge — they have researched and crafted content for a website, produced original artwork for promotional material, are learning to create podcasts about the process, and are designing and implementing assessment instruments and research methods to track and evaluate the program's work.
Every Campus A Refuge is a truly unique initiative, and Guilford is happy to be the first of many other campuses to embark on this very necessary "radical hospitality." From Florida to Canada, and from Maine to Oregon, college and university campuses have begun initiating their own Every Campus A Refuge programs.
During this humanitarian crisis of astronomical proportions, Guilford hopes to serve as a model-leader for campuses around the globe by stewarding its resources for good and shaping a more compassionate public discourse about refugees and immigrants.
To learn more about Every Campus A Refuge and how to support the initiative, please visit www.everycampusarefuge.org. For the most recent updates, please visit our Every Campus A Refuge Facebook page.
---