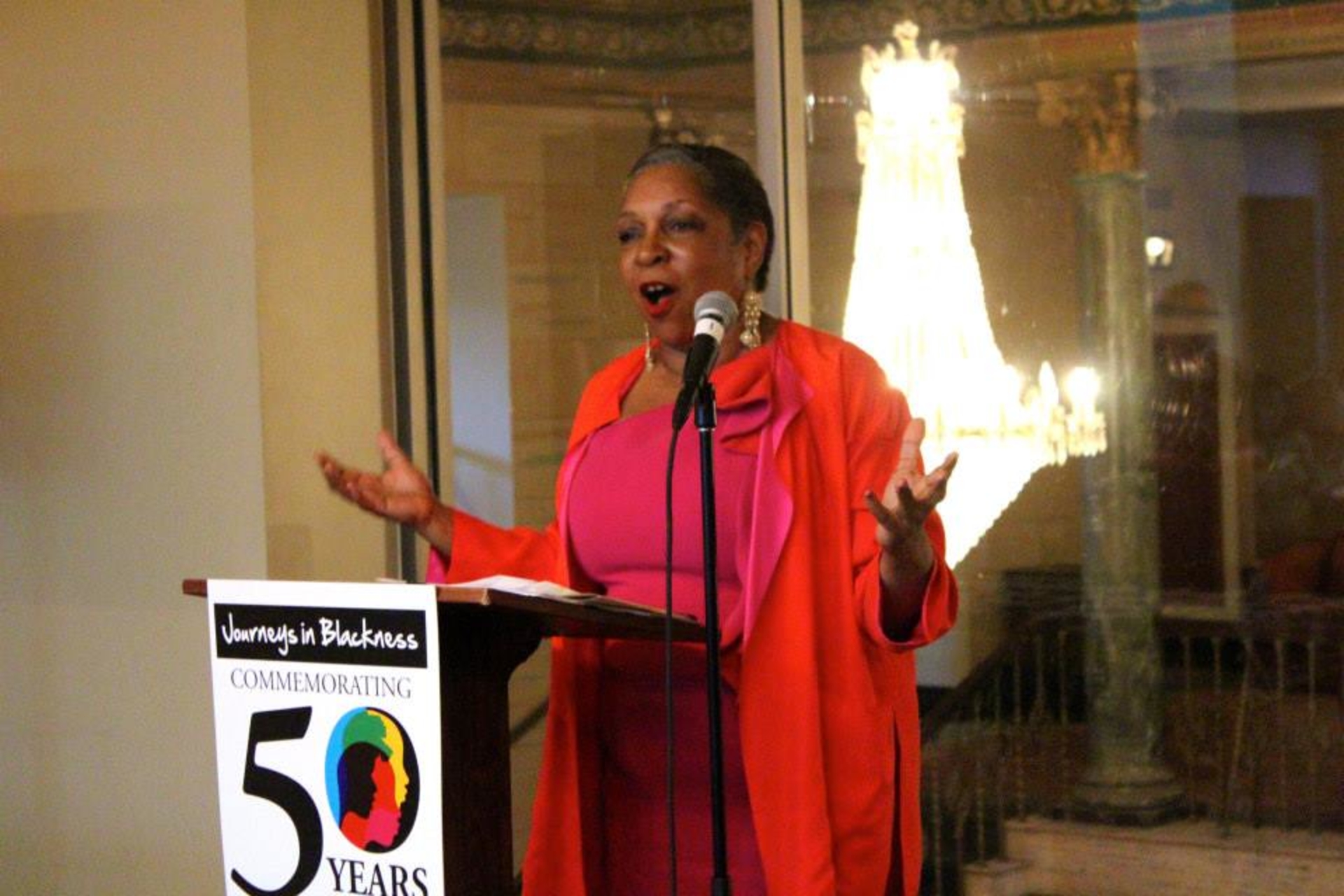 When President Jane Fernandes met with the Black Alumni Advisory Board of Guilford College (BAGC) at our 2014 summer retreat she reminded us that as alumni we are ancestors, culturally bound to share our history with those that follow in our footsteps. That way when students begin their journey where West Friendly Avenue meets Levi Coffin Way they can embrace the celebrated history of Guilford College. Not merely because it is one site of the Underground Railroad but because of the plethora of Black history made here.
Archived in a variety of places are notes from faculty meetings on integrating the college, articles about the Black leaders who came to speak as well as human interest stories. In this changing world this is a legacy worth embracing.
Look back to 1946 when the campus Inter-Racial Club held its regular November meeting with attendees from Bennett College, North Carolina A&T State University, Women's College (now Greensboro College), and of course, Guilford College. By 1948 the International Relations Club held an intercollegiate, interracial tea. According to the Guilfordian: "White and Negro met on an equal basis at Guilford College Sunday afternoon…The tea was the first of its kind in the history of the Guilford College I.R.C., but it represented a notable milestone of which the members of the club can be proud."
The Society of Friends frequently proposed that Guilford integrate. So in the 1950s those opposed - since Greensboro had a college for white women (Greensboro College), Black women (Bennett College), and Black men (A&T was all male at that time), Guilford should be a white male institution.
Almost as soon as Guilford adopted an integration policy in 1961 the Imperial Barbershop on the opposite side of Friendly Avenue refused to serve black patrons and the white students they referred to as 'long haired Communist hippies'. It didn't take long for Guilford students to picket the shop.
On the night Dr. Martin Luther King, Jr. was assassinated the City of Greensboro shut down Friendly Avenue right outside the gates of the College "to prevent unauthorized vehicles from entering the city." The candlelight vigil held by black students in the Moon Room in Dana on that night grew to an annual event held in the quad. From this came Many Voices, students, faculty and staff committed to commemorating Dr. King's birthday on a local and national level.
How can you not embrace this legacy?
Our ancestors included activist like Professor James McMillan, former head of Guilford's Art Department and first full time black professor. While teaching at Bennett College he participated in the Woolworth sit-ins, marching with students and faculty and was jailed for his efforts.
Dr. Adrienne Israel, Academic Dean, was involved in the quest for change when she attended Howard University. In 1988 she talked about her years of involvement at Howard as part of the "Eyes on the Prize II Interviews."
These facts and stories are just part of the BAGC Black History of Guilford College Timeline. From the Quakers teaching Africans how to read the Bible to Guilford African American students teaching and tutoring at local high schools, the goal is to share history we made as well as the history we know.
It is time to include your story of Black history of Guilford College. That way new students can embrace the legacy of how a place where escaped slaves stopped for food and shelter became a college symbolizing diversity and freedom. Please share any stories you have with alumni@guilford.edu.
Remember you are part of Guilford history. It's time to be a part of its legacy.
---