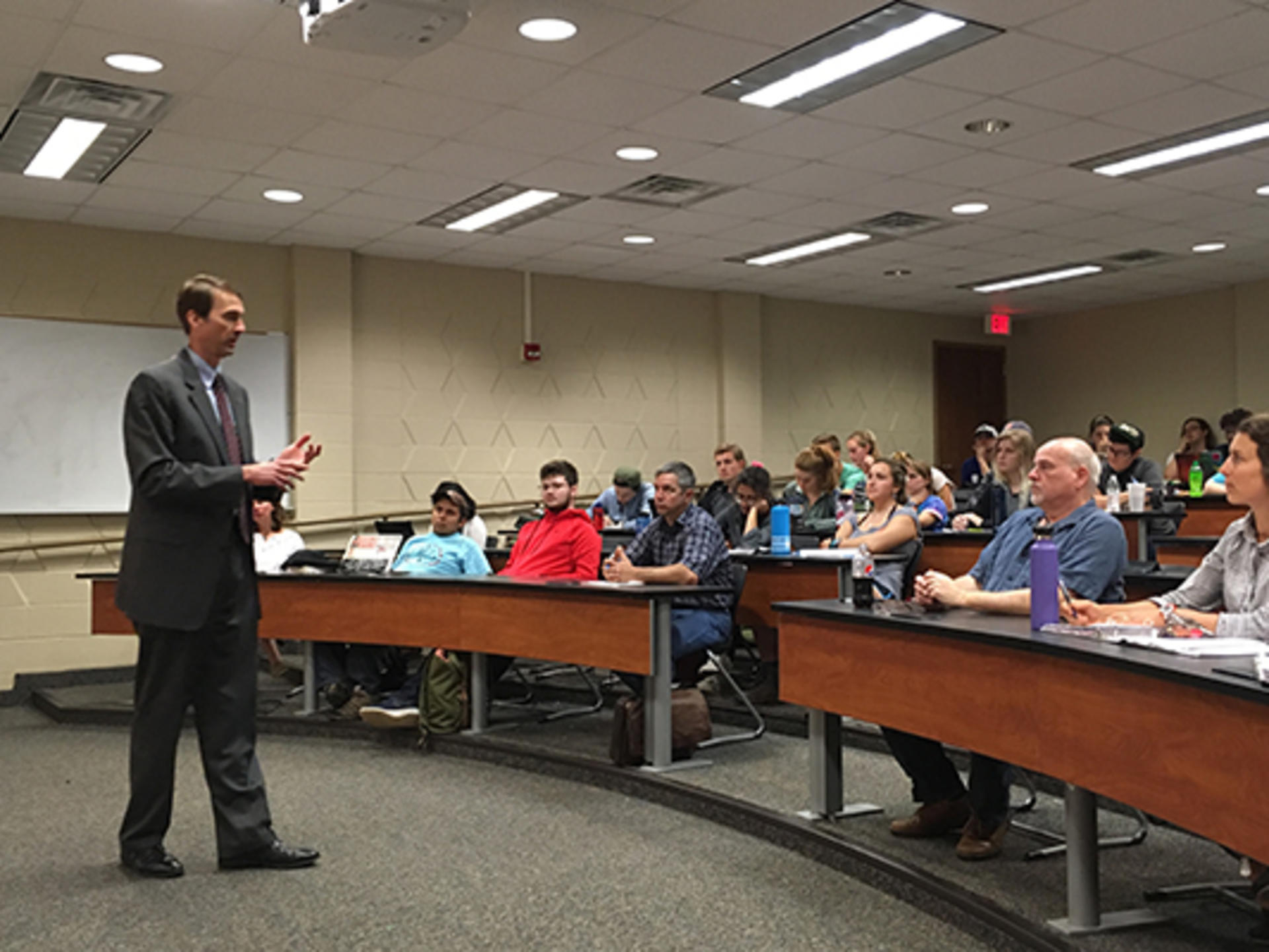 David Fountain, N.C. President of Duke Energy, credits his Quaker upbringing for instilling values he has strived to practice in his distinguished career and through the many leadership roles he holds.
David manages the business in the home state of one of the nation's largest electric power holding companies, as well as his volunteer leadership such as the chairmanship of the Board of Directors for Leadership North Carolina and chair-elect of the N.C. Chamber of Commerce.
David was on campus April 10 to speak about renewable energy to about 40 students and faculty in environmental studies and nonprofit management, as well as Principled Problem Solving Scholars. He spent an hour discussing Duke Energy's focus on renewable energy sources as well as community engagement.
Holly Peterson, Assistant Professor of Geology and Co-chair of Environmental Studies, said David discussed the complexity of the energy system that requires measured change for more sustainable practices in order to maintain reliability and affordability, especially for lower income households.
He commented on Duke Energy's pilot projects for storing renewable energy, as well as advanced microgrid technology, Holly said.
While commending Guilford College on its sustainability efforts, composting and solar panels providing the energy for hot water on campus, David encouraged the students to engage in positive activism and explore ways that such efforts can become initiatives beyond the campus boundaries.
Holly worked with students to develop questions for the session that would promote dialogue, along with Bronwyn Tucker (Sustainable Food Systems), Mark Justad (Principled Problem Solving), Jason Millington (Environmental Studies) and Ara Serjoie (Vice President for Advancement, who is teaching a class on nonprofit management this term).
"It was a great value for students to prepare in that way and dialogue with such a high level practitioner as David," Holly said. "I'm really proud of them for that."
Elias Smolcic-Larson '19, a Sustainable Food Systems and History double major from Huntingdon, Pa., was one of the students participating. He said, "We learned some things about the future of energy in North Carolina and in the broader world. Here in the U.S. it is an industry that will see a lot of changes. I'm excited to see how that transitions.
"(Duke Energy is) trying to adopt some more sustainable practices," he added. "It's still cheaper to use fossil fuels, but there's more and more of a demand for green power and it's slowly becoming more economical. Sounds like they have at least a mild interest."
David's roots as a Quaker and with Guilford College run deep. Raised in a family of Friends in Guilford County, he attended Quaker Lake Camp where one of his peers was Diana Coe, daughter of Kathy and Dick Coe, trustee emerita and retired College administrator, respectively.
David's mother, Carol Smith Fountain, graduated from Guilford in 1956, and his brother, Tim, in
1994. His uncle and aunt, Lee '51 and June Smith '52 Stackhouse, are longtime benefactors of Guilford College. Lee passed away in March of this year and David led the session in Lee's memory. Other family members with Guilford connections are his aunt, the late Audrey Smith Duncan '51, and some close cousins.
David became Duke Energy's N.C. President in September 2015, after holding vice presidencies and responsibilities as legal counsel. He practiced transactional and environmental law for a Charlotte law firm before joining Progress Energy in 2000, which merged with Duke Energy in 2012.
---