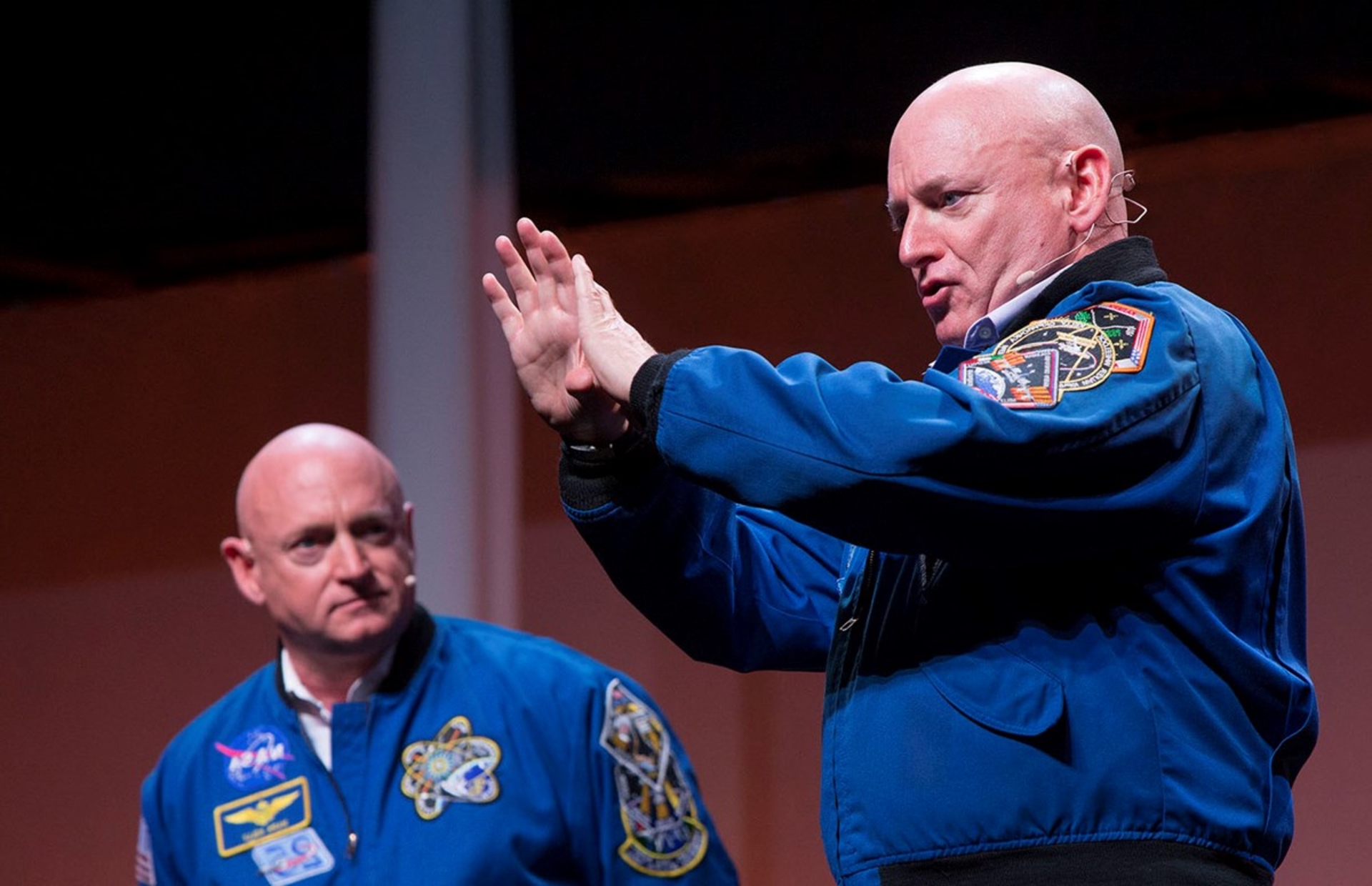 Twin brothers and veteran astronauts Mark and Scott Kelly have done hard things.
Mark commanded both the Space Shuttle Endeavour and the Space Shuttle Discovery during his NASA career. On March 1, Scott returned to Earth after spending 340 days in orbit aboard the International Space Station.
We should all choose to do hard things, the brothers told an audience of several thousand at Tuesday's Bryan Series lecture at the Greensboro Coliseum.
View a gallery of photos from the Kellys' campus visit and lecture on the Bryan Series Facebook page.
"Choosing to do hard things as a nation, that's the greatest gift we can give our children and our grandchildren," Mark said at the beginning of their talk.
"How do you do the hard things? It starts with having a goal and a plan," Scott continued. "It's about taking risks and being willing to make mistakes. It's about focusing on the things that you can control and ignoring what you can't. It's about testing the status quo. And, of course, it's about working as a team.
"Because for us, when we put all these things together, in our careers, what we've learned is that the sky is not the limit."
They learned these lessons from their family as well as their work.
When they were boys growing up in New Jersey, their mother decided she wanted to become a police officer. They watched her train for the physical test required for the job, which included scaling a 7-foot-2-inch wall.
Their father built a practice wall in their backyard. They watched their mother, just over 5 feet tall, fall and get back up, again and again, as she tried to climb that wall. She passed the test and became one of the first female police officers in their community.
"This was the first time in our lives we saw the power of having a goal, and a plan, and what it meant to work really, really hard," Mark said. "Thank you, Mom."
Mark and Scott described the challenges they faced as Navy pilots learning how to land planes on aircraft carriers. They didn't let early setbacks derail their dreams.
"How good you are at the beginning of anything you try is not a good indicator of how good you can become," Mark said.
They became distinguished Navy pilots and, eventually, NASA astronauts. Despite vast experience as a pilot, nothing prepared Mark for his first space launch in 2001. When the countdown reached zero, he felt like he was on a runaway train.
"It's literally like the hand of God came down and grabbed you and ripped you off the planet," he said.
Scott recounted the first time he saw a sunrise from space. At first he didn't recognize what he was seeing. As the sun came up, it painted the planet an impossibly brilliant blue.
"I knew right then that Earth would be the most beautiful thing I would ever see in my whole life," Scott said.
Scott also talked about his 340 days on the International Space Station and the physical problems he experienced when he returned to Earth almost eight months ago. Just getting out of bed was a challenge during his first days and weeks back on Earth. His joints and muscles were stiff from not having opposed gravity for so long.
The space station, the size of a football field and built by 15 countries, should inspire us, he said. If we can build a space station, we can go to Mars and we can cure cancer.
"I'm a true believer now that if we dream it, we can do it," Scott said at the end of the talk. "… We can choose to do the hard things, and if we do that, the sky is definitely not the limit."
---