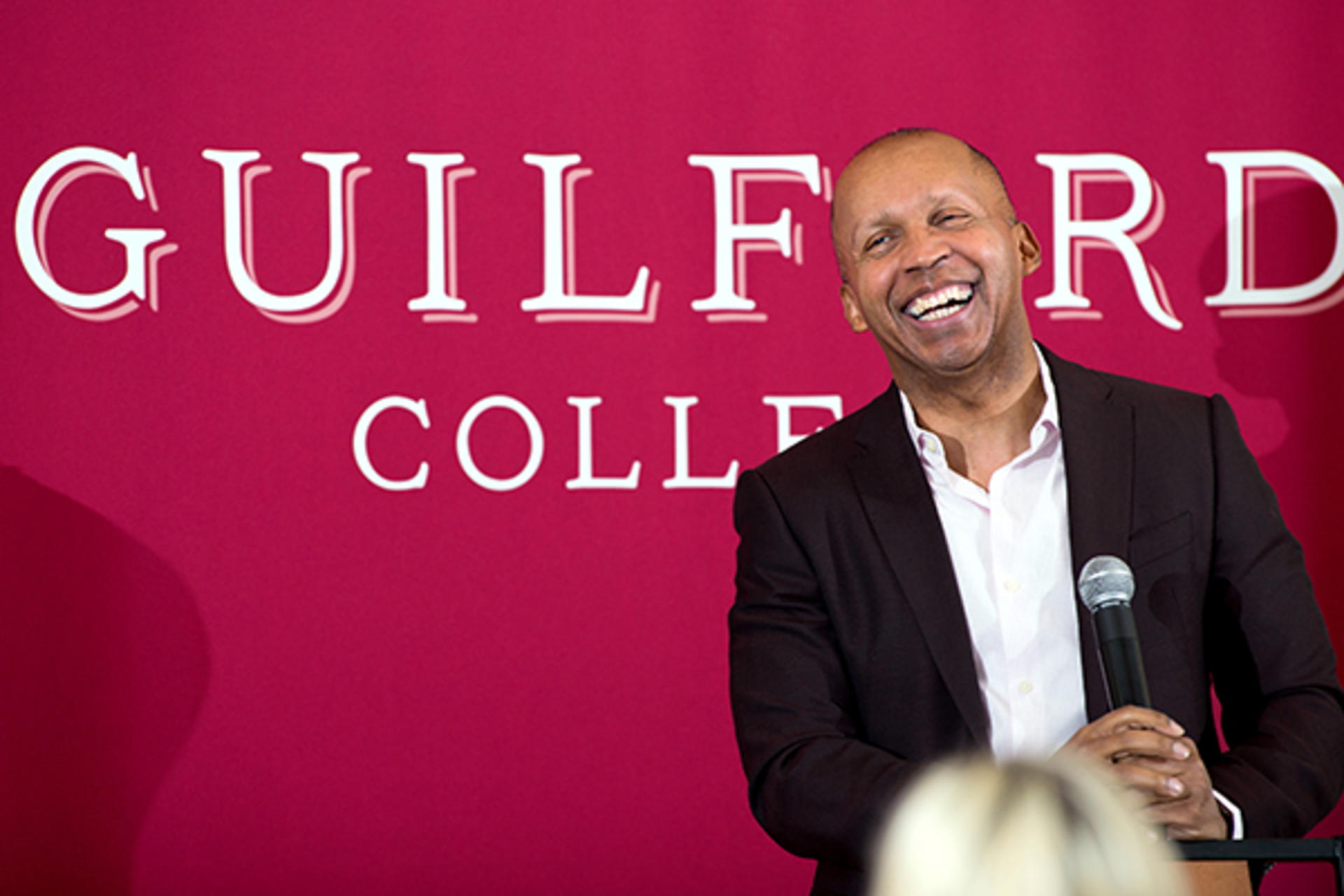 Attorney Bryan Stevenson, the author of the best-selling memoir Just Mercy, says he believes America must come to terms with its history of racial discrimination and injustice before it can truly thrive.
"In many ways our history is difficult and painful, but we have to face it in order to move forward," he told a Guilford College Bryan Series audience of 2,800 at the Greensboro Coliseum on Tuesday.
"We have to change the narrative on race and racial difference in this country," he said. "I don't think we're really free yet. I do not want to punish America; I want to liberate it."
'Incredibly Bright Students'
Bryan visited campus and took questions on a range of issues from a group of 50 students, faculty, staff and other guests for about 90 minutes Tuesday afternoon. "I met some incredibly bright students at Guilford College today," he told the evening audience. "I was very impressed."
He learned about Guilford's Higher Education in Prison Program, co-founded by Tiffany Kallam Bullard '12 and Barbara Lawrence, associate professor of Justice and Policy Studies. Women and men in three correctional institutions in North Carolina are taking courses from Guilford College instructors.
"I'm proud of this program," Bryan told the audience, which viewed a 4-minute video about the program before his talk.
A Powerful Read
Hundreds of people on the Guilford campus and in the wider community read Just Mercy before Bryan's visit. "It's a hard book to read and hard to put down," said Cheryl Hatch, visiting assistant professor for English and Creative Writing.
In 1994, Bryan founded the Equal Justice Initiative, a nonprofit organization committed to ending mass incarceration, challenging racial and economic injustice and protecting basic human rights for America's most vulnerable.
He and his staff have won reversals, relief or release for about 125 wrongly condemned death row prisoners. "Our legal system seems more committed to finality than fairness," he said.
Related Links
---