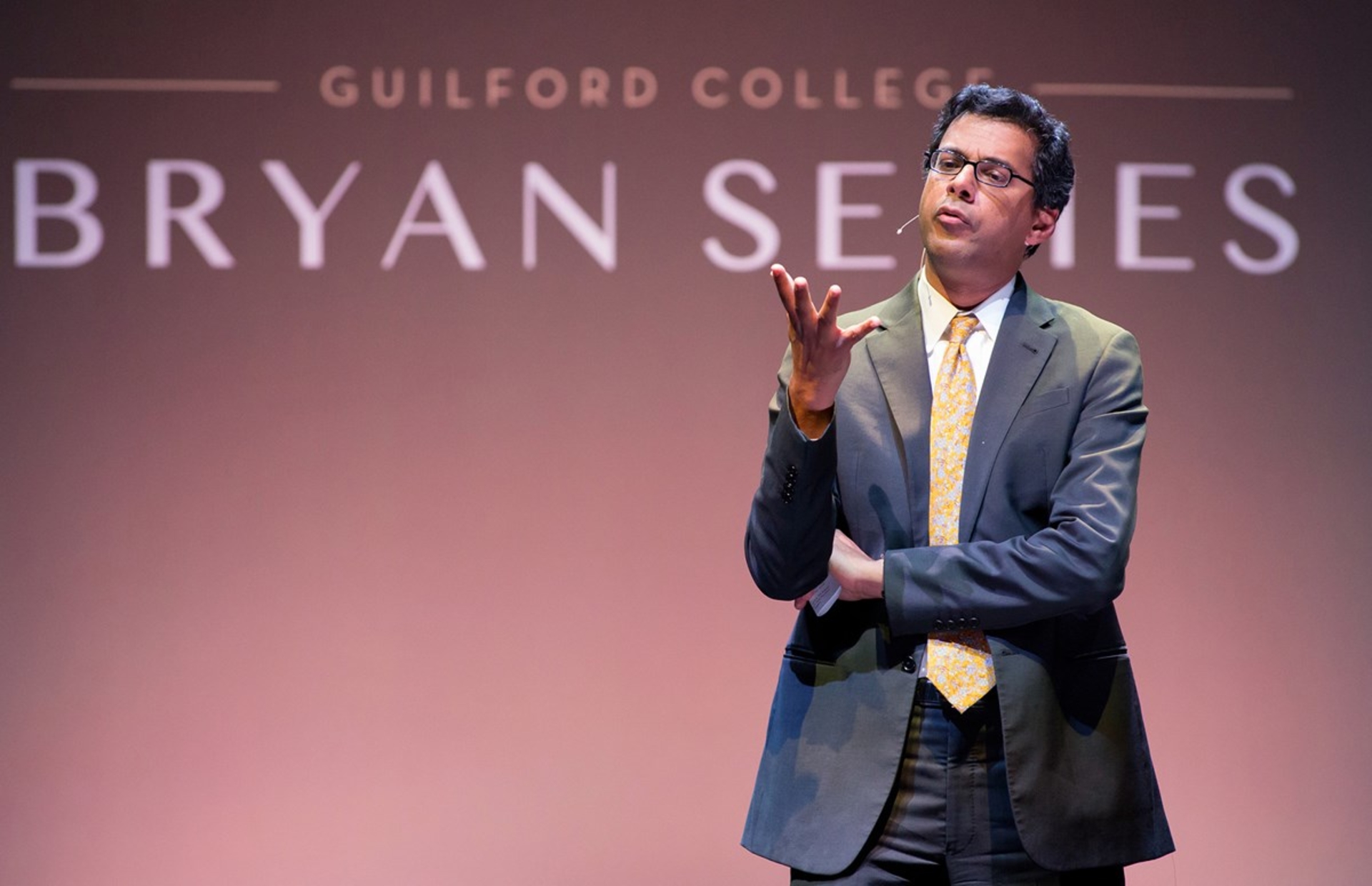 Surgeon and author Atul Gawande spoke in the Bryan Series Tuesday about how we die.
Modern medicine has made dazzling advances and helped to dramatically extend average life expectancy, but its emphasis on survival above all else does not necessarily serve us well when we must confront death, he said.
View photos from the event on the Bryan Series Facebook page.
"We've had a 50-year experiment in medicalizing mortality, that's treating it as just another problem of disease and control of disease," Atul told the 2,900 attendees at the Greensboro Coliseum. "That's failed, but it doesn't have to. There are just a few conversations that can change that."
A handful of key questions can start those conversations. Atul, author of the best-selling book Being Mortal: Medicine and What Matters in the End, listed the questions he poses to individuals facing life-threatening medical problems:
What's your understanding of your condition at this time?
What are your fears about the future?
What are your priorities and goals if your health worsens?
What are you willing to sacrifice and what are you not willing to sacrifice in the course of your care? What is the minimum quality of life that you would find acceptable?
Have you designated someone to speak for you when you are no longer able to speak for yourself? Does this person know your answers to the other questions?
The answers can guide decisions about treatment and other issues, such as how long a patient can stay in his or her home. He illustrated the point with the stories of his daughter's piano teacher and his own father.
The piano teacher, Peg, was hospitalized for treatment of her terminal cancer, but she decided to return home and to resume doing what she loved, teaching young people to play the piano. She received visits not only from current students but also former students who came to play for her. Peg chose to live well rather than to live as long as possible.
"Well-being is bigger than health and survival," said Atul, a general and endocrine surgeon at Brigham and Women's Hospital in Boston and a professor at Harvard School of Public Health and Harvard Medical School.
He is the author of the books Complications: A Surgeon's Notes on an Imperfect Science, Better: A Surgeon's Notes on Performance and The Checklist Manifesto: How to Get Things Right. In 2010, TIME named him one of the world's most influential people.
When Atul's father, a surgeon in Ohio, was diagnosed with a brain tumor, he chose treatment options that allowed him to continue to perform surgery for as long as possible. He continued to host dinner parties for friends and family.
"He passed in peace with all of us around him, as a person not a patient."
The Bryan Series will continue Nov. 19 with Pulitzer Prize-winning presidential historian Jon Meacham.
---