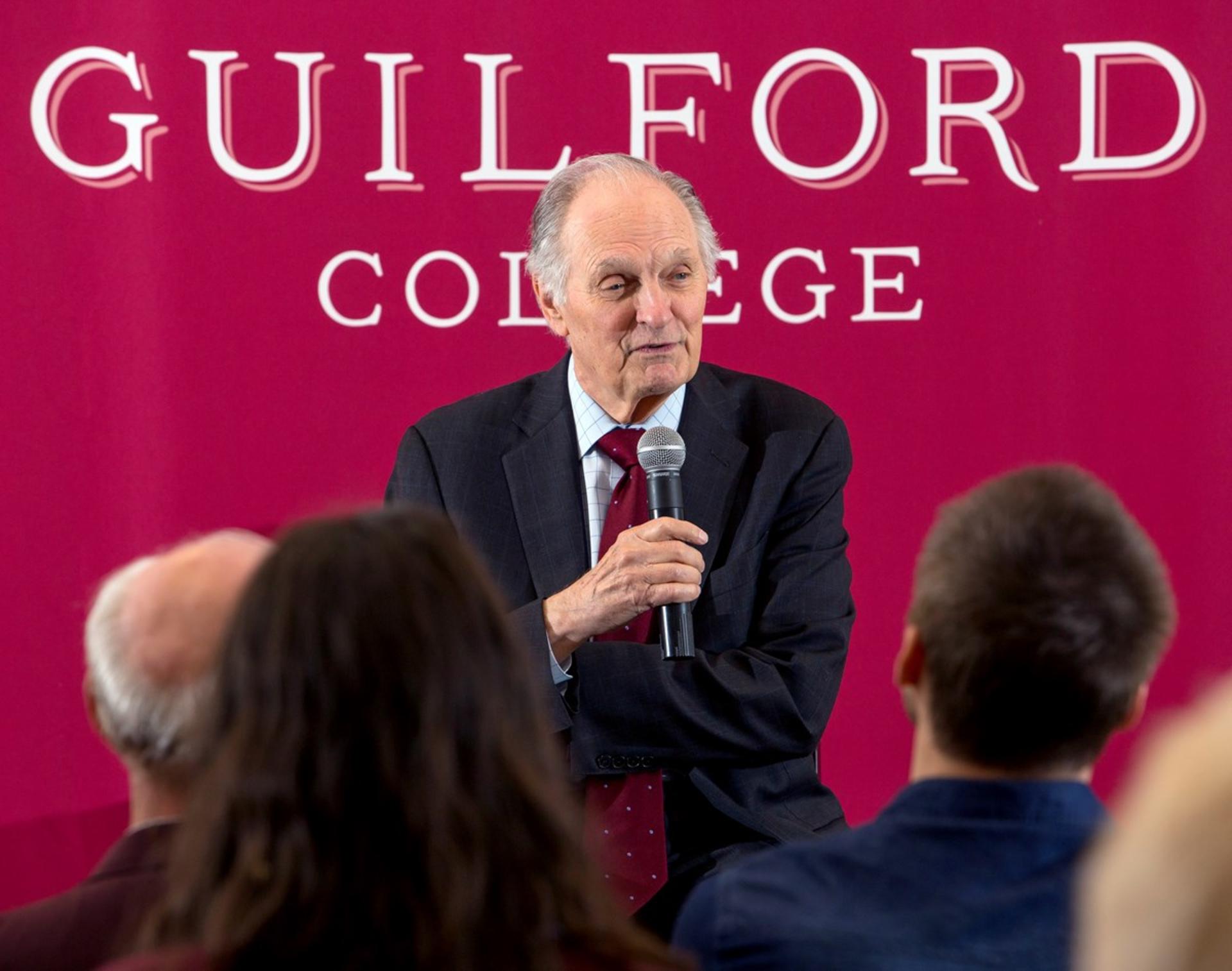 Famed actor Alan Alda enjoys teaching, which was evident when he met with Guilford College students and gave a public talk as the final guest in this year's Bryan Series on April 6.
In 2009, Alan helped found a center for communicating science at a northeastern university. He teaches there occasionally, and he makes talks to other organizations using skills for improvisation honed over decades in television, film and theater to help scientists communicate more effectively.
During his visit for the Bryan Series, he invited students into two demonstrations. In an afternoon Q&A session on campus with about 60 people, two students played the mirror game — an improvisational warm-up — in which one student mirrored the movements of the other with some guidance from Alan.
The goal of the exercise was to show how important it is to connect with one another in order to increase the effectiveness of communication.
In the evening, Alan made a talk to about 3,000 people at the Greensboro Coliseum. He invited Guilford student Emma Ross '18, an English major from Raynham, Mass., to join him on stage and asked her to walk from one point to another two times, the second time with a glass of water filled to the brim. Only a tiny drop of water escaped and Emma quickly wiped it away.
Alan was illustrating how changing circumstances can add drama to an otherwise ordinary action; the audience was far more engaged the second time when everyone wanted to see if Emma would spill the water.
In his 50-minute talk, Alan shared jokes, stories and bits of wisdom from his life, including near-death experiences and tales of a childhood spent watching his father work in burlesque theater.
Alan is best known for his role as Hawkeye Pierce on the TV series M*A*S*H, for which he won Emmy Awards for acting and directing. He was nominated for a best supporting actor Oscar for his work in the film The Aviator.
Alan was the last of six speakers in this year's Bryan Series, which also featured Michael Pollan, Mark and Scott Kelly, Amal Clooney, Neil deGrasse Tyson and Bryan Stevenson. The new season opens in September.
The Greensboro News & Record reported on Alan's visit to campus and his evening talk in an article published April 7.
---