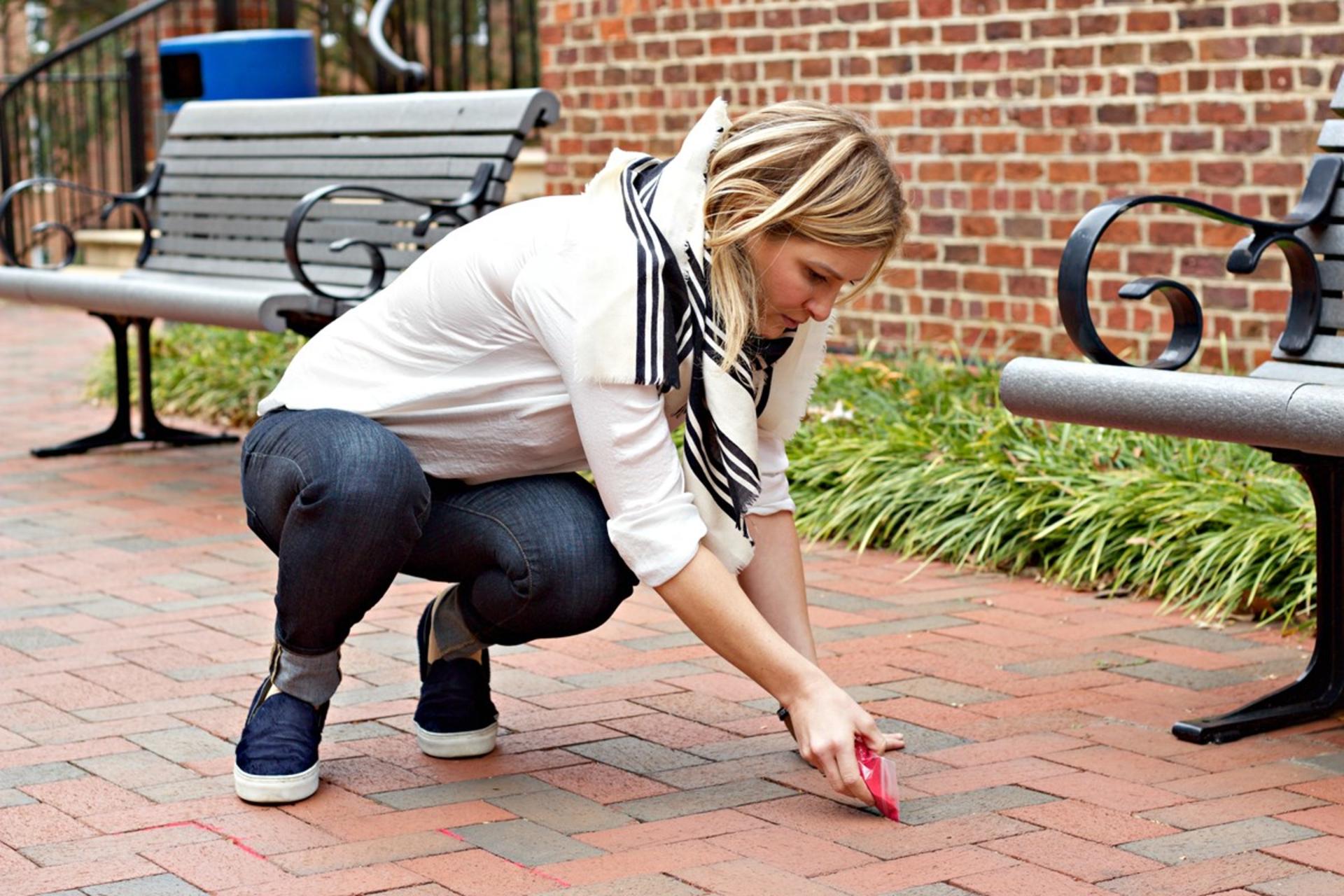 After reading an article about human trafficking, Molly Gochman '01 felt compelled to act. Experts estimate that close to 50 million people are enslaved worldwide.
"How can this huge issue be so invisible?" she asked herself. "And what can I do to help with the visibility of it?"
She responded by creating the Red Sand Project two years ago at Art Basel in Miami.
"I invite people to place red sand in sidewalk cracks to encourage us to be mindful of vulnerabilities that exist all around us," she says. "The cracks are a metaphor for vulnerable populations who are most at risk of being exploited."
Recognizing Hard Work
On Monday, Molly received a Young Alumni Achievement Award and shared her project with the campus community in an event organized by the Guilford College Chapter of Amnesty International. The campus installation was part of Guilford's celebration of Peace Week.
Read a Greensboro News & Record story, "Drawing a line out of sand to end human trafficking," about the Guilford installation of the Red Sands Project.
"This cause is promoting the freedom and safety of those who are victims to the evils of the world," said student Haya Al-Attar '16, president of the Guilford College Chapter of Amnesty International. "The voices of the most oppressed often go unheard. This project brings out the best in people, and coincides perfectly with Peace Week."
Following Her Passions
During the past two years, the project has taken on a life of its own, Molly says. It has been done in 70 countries and all 50 states. Participants, including actor Ashton Kutcher, further extend its reach by sharing images on social media with the hashtag #RedSandProject.
The project combines Molly's passions of art and activism.
"The idea is to help build a movement to end modern-day slavery and end human trafficking," she says. "Art can be a powerful way to mobilize people to come together and take action."
Do you want to change the world? Check out how Guilfordians put service into action. And to learn more, schedule your personal visit, where you can meet students who are bringing art and activism together on campus.
---