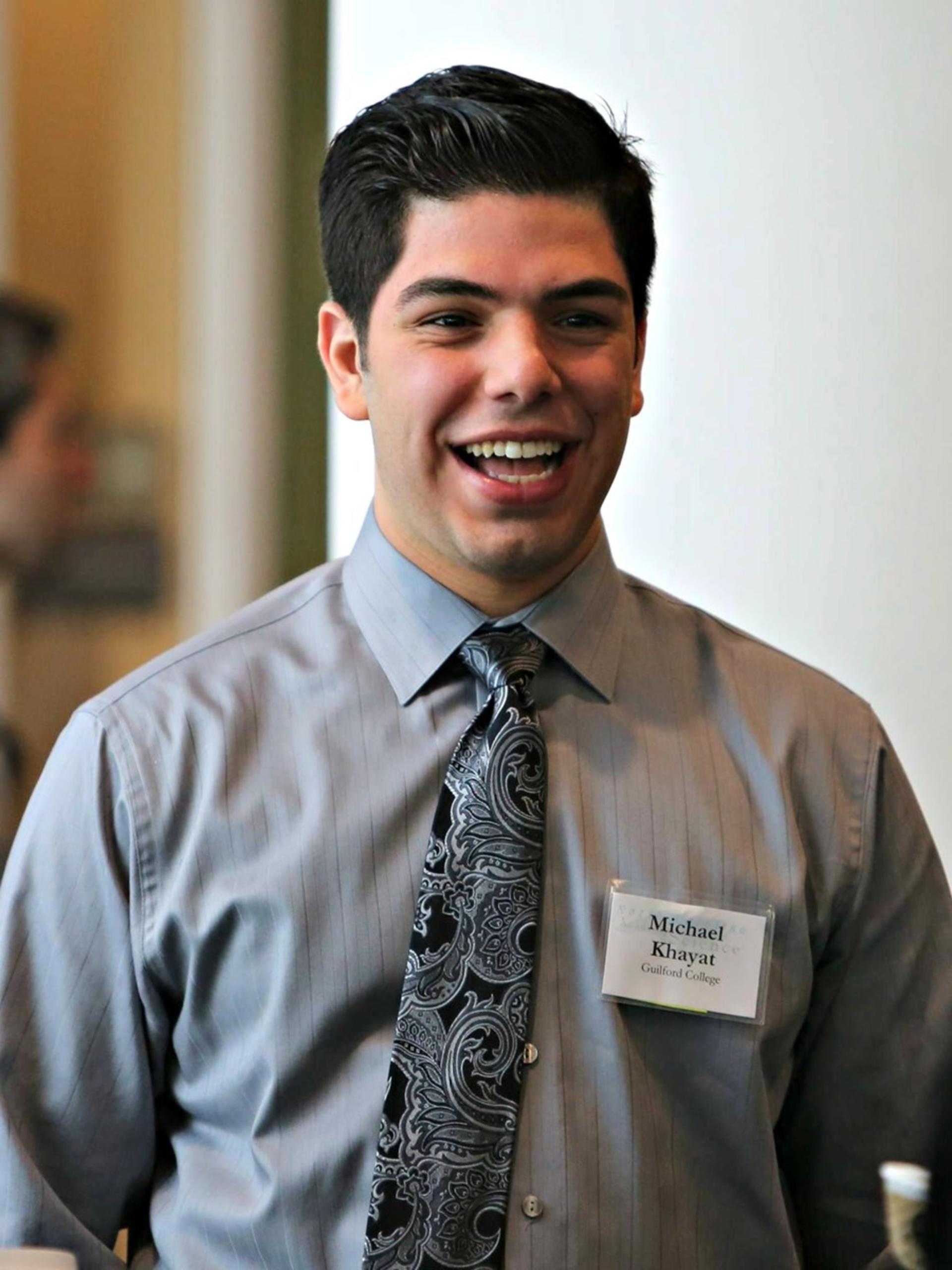 Michael Khayat '14 was always interested in science. He knew when he came to Guilford he would major in science, but at the time didn't really know where his career would take him. He credits his professors and advisers for really helping things take shape. He's now well on his way to a Ph.D. in molecular and human genetics.
"Dr. Melanie Lee-Brown was instrumental in my science training, and she also was a fantastic adviser and mentor," Michael says. "Starting in my freshman year, she helped me shape my aspirations into a viable plan, and she was there for me throughout my years at Guilford — and even afterward."
Other professors who made an impact on Michael were Robert Whitnell, Michele Malotky and Maia Dery, as he went on to double major in Biology and Computing Technology and Information Systems, with a double minor in Chemistry and Integrated Science.
"I really credit Professor Dery in fostering a more creative and open-minded approach to academia," he says. "She was able to create a transitioning environment where we took responsibility for what we want to do moving forward."
Chasing His Dream
As for moving forward, Michael has already accomplished a lot.
For two years after graduation he worked as a research technician at the UNC Chapel Hill, where he helped drive a project that works toward a better understanding of viruses like Zika. He's now a student at Baylor College of Medicine, where he's pursuing a Ph.D. in molecular and human genetics. Though only in his first year of graduate school, he has started working in multiple research avenues focusing on human health.
"I have done work on human sequencing samples from around the world," he says, "and the goal of this research is to help patients and create a better understanding of genes, human genetic disease and disease predisposition."
Even before coming to Guilford, Michael was interested in microbiology and its impact on medicine and the potential to help other people. Thanks to his time at Guilford he's able to make that dream a reality.
"The training and experience at Guilford is great because it creates a unique way of thinking and helps you find your niche," he says. "I can't stress enough that Guilford has nothing less than fantastic faculty and staff. They make this place what it is."
Are you interested in study science at Guilford? Register for a personalized visit, where you can learn more about available majors and meet faculty members involved in each program.
---