The Human Side of Business
Human resources is a constantly evolving field that has grown to include not just personnel matters and payroll — it is also about recruiting, hiring, developing and retaining great people while successfully handling complicated workplace issues.
Guilford's Human Resource Management minor is designed to give students a solid foundation for success in this field. Through the study of human relations in organizations, students learn how to create a positive workplace culture for building healthy relationships and effective collaboration in pursuit of organizational and personal goals. Students also gain an understanding of the legal parameters that surround workplace issues.
Courses help students become more effective in resource planning, development of policies and procedures and training and career development — for both private- and public-sector settings.
Major/minor requirements and course descriptions are available in the online version of the Guilford College Catalog. Use the keyboard shortcuts Control F for PC or Command F for Mac to search the document for your program.
Hands-on Learning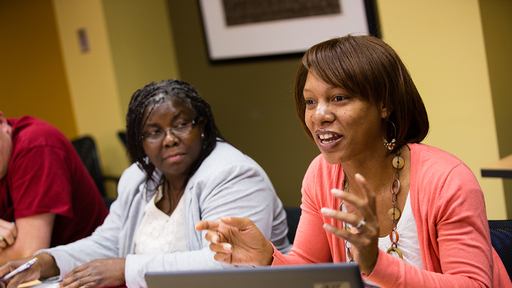 Guilford Business students gain great experience through internships with world class organizations including:
Disney
Merrill Lynch
Erickson Advisors
Procter & Gamble
Samet Corporation
American Red Cross
N.C. AIDs Action Network
Bryan Family YMCA
Syngenta Inc.