Forensics for the Investigator
Learn to hunt down complex fraudulent activities and prepare to serve as an expert witness when you study Forensic Accounting at Guilford College.
Forensic Accounting is a fast-growing segment of the accounting industry, involving litigation support and investigative accounting. A Forensic Accounting major provides students with the skills necessary to prevent and detect fraud. Students also learn to apply analytical techniques and computer digital techniques to detect fraud, provide expert interviewing skills of possible fraud perpetrators, learn to gather evidence legally and how to testify as an expert witness.
A forensic accountant finds evidence to support a fraud hypothesis, understands human behavior that might lead to fraud and displays excellent oral and written communication skills.
The degree program consists of eight major courses (32 credit hours) and four courses from a list including business law and environment and interpersonal communications, among others. The minor is four courses (16 credit hours). Forensic Accounting students are prepared to enter the workforce, and graduates are ready for the Certified Fraud Examiners (CFE) exam.
The B.S. in Forensic Accounting and its minor prepare students to detect complex fraudulent activity that may be missed in an audit of financial statements.
Major/minor requirements and course descriptions are available in the online version of the Guilford College Catalog. Use the keyboard shortcuts Control F for PC or Command F for Mac to search the document for your program.
Hands-on Learning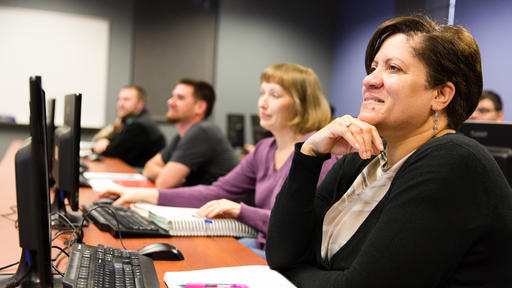 Guilford students have expanded their skill set and built professional networks during internships at the following:
Investment banks in Chicago and New York
Leading CPA firms
Tax-preparation services
The Guilfordian, the campus newspaper, as business manager
Self-Help, a nonprofit group helping low-income families receive funding for home, business purchase