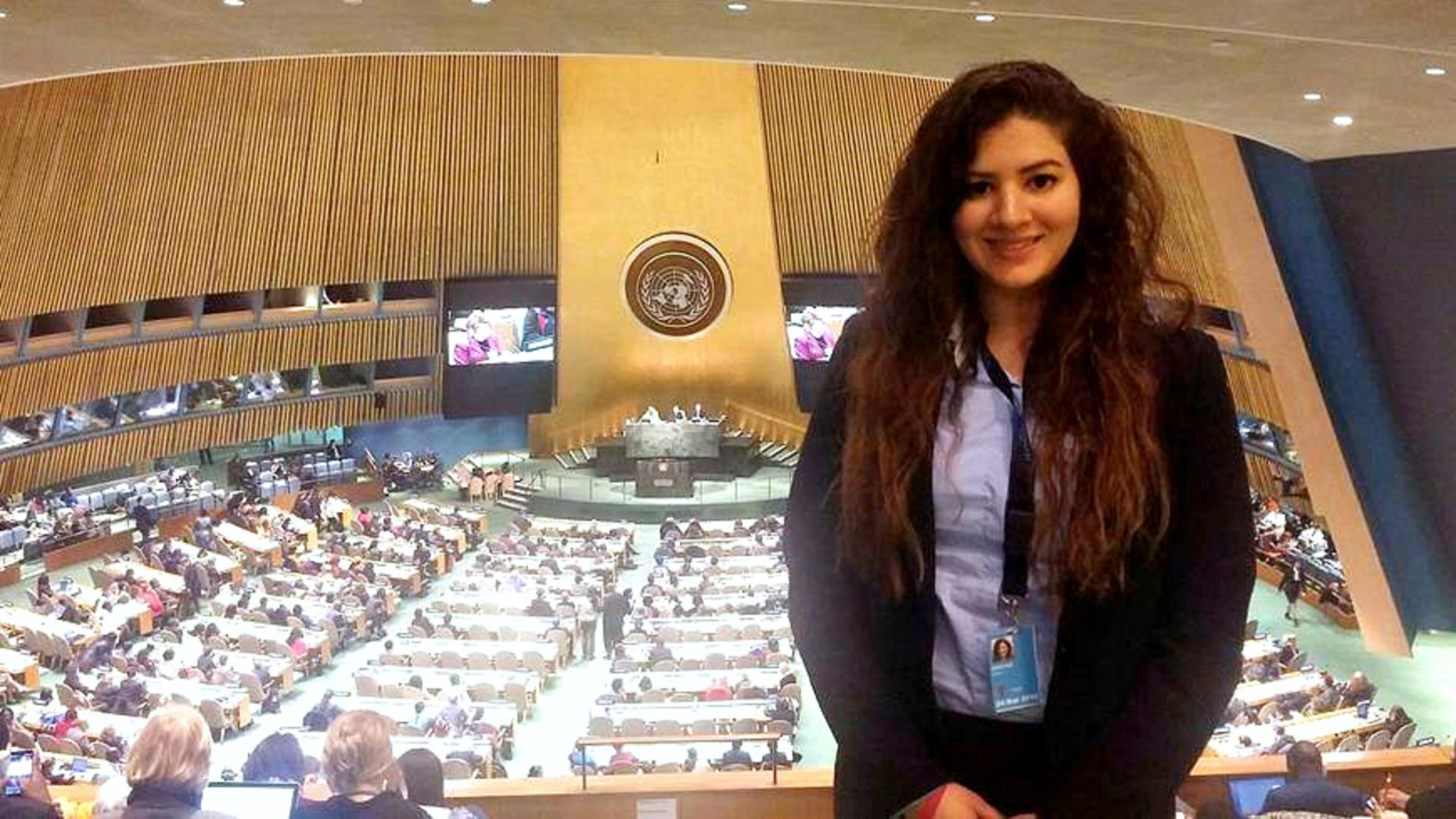 Dima Hanania '12 knows first-hand what it feels like to be discriminated against purely because of the color of your skin or your heritage.
"When I was a young girl going to school in Fairfax, Virginia, people made fun of me for being Arab," she says. After a while, Dima stopped mentioning her heritage to others for fear of their reaction. That changed when she got to Guilford College.
"When I first came to Guilford, I was very shy and not sure of myself," she says. "There are always a lot of social events to get to know each other, and of course the questions come up of where you're from, and I just told people I was from Virginia."
However, as Dima saw how others were welcomed, she decided to be completely honest with her new friends, and she told them she was an Arab from Palestine.
"Everyone thought it was really cool, and they started asking me more questions about my family and my culture," she says. "That experience really helped give me confidence, and it gave me the push I needed to continue to express myself and embrace my culture."
Encouraging Education
Dima's years at Guilford College as a political science and environmental studies double major gave her an opportunity to find herself and become her own person, apart from her family.
"To have the opportunity to leave home and study in another country, while my parents were back in Palestine, was a very big deal," Dima said. "Guilford really opened doors for me and helped me break out of my shell." Dima was active in the greater Greensboro area community events regarding Palestine speaking on the Arab Spring and its effects on the region as well as her 9/11 experience on the 10th anniversary of the attacks. She was a member of ASA/MSA and played for the Guilford Biohazard Ultimate Frisbee team.
Her first job out of college was working for an NGO that created career counseling centers to help students bridge the gap between college and jobs.
"I am grateful for the opportunities I had to get a good education and come back home to Palestine and get a good job," she says. "More people are being encouraged to get an education and move into the work force, and my work in nonprofits is my way of helping with that."
When her project was completed, she ended up at Jawwal, a market-leading telecommunications company in Palestine, where she is a project manager. Jawwal provides Dima with a leadership role and professional experience in project management, a field which she is passionate about, and which can be applied to any industry or even personal life decisions. She hopes to one day take that experience and use it in the humanitarian field.
A Better Future
Dima is using her voice to raise awareness for her country, her culture and women on a global level. She helped charter and currently is the president of Ramallah Toastmasters. She has also represented Palestine on many international platforms, such as the Economic and Social Youth Forum at the United Nations and the United Nations' Commission on the Status of Women in 2016, and she has served as a representative at the Arab League of Nations. She has given sessions at these international platforms, some of which include "Violence Prevention and Women's Empowerment," "Reinvigorating the International Humanitarian Law Discourse" and "Peace and the Frontline of the Sustainable Development Goals." She is looking forward to attending the Youth Forum at the UN Human Rights Council in Geneva, Switzerland, this summer.
"At Guilford College, I was able to see how talking about issues and teaching people about what is going on can really raise awareness and help combat negative stereotypes," she says. "I am working hard to keep building that awareness, talking about our country and our people to both a national and a global audience. I just want to know that I tried to contribute something to make the world a little better place."
---