For the Love of Science
In today's schools, science teachers are in extreme demand, and Guilford College students are using their love of science to inspire students all around the country. The Comprehensive Secondary Science major prepares students to be licensed to teach in any science at the high school level (Biology, Chemistry, Physics/physical science and Earth Science).
Paired with Education Studies requirements, including the study of Philosophy, Psychology and the history of education, graduates are ready to inspire high school students to appreciate and understand science and how nature works. Plus, internship and student-teaching opportunities experienced by all Guilford students provide the hands-on learning necessary for every teacher before entering the classroom professionally.
Major/minor requirements and course descriptions are available in the online version of the Guilford College Catalog. Use the keyboard shortcuts Control F for PC or Command F for Mac to search the document for your program.
Hands-on Learning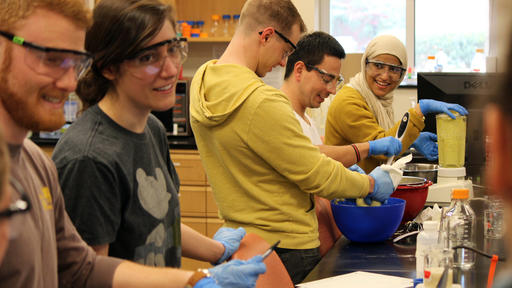 Intensive, faculty-supervised internships and a semester-long student teaching experience is a hallmark of Education Studies at Guilford. More than 95 percent of our students are hired to teach within one semester after graduation and licensure completion, and 100 percent have gotten into the graduate programs of their choice.