Shape Your Future at Guilford
Trying to figure out what it is you want from college? Maybe you need some guidance choosing a major? Perhaps you're trying to turn your biology degree into a career in medicine or your desire to travel into a dream job overseas?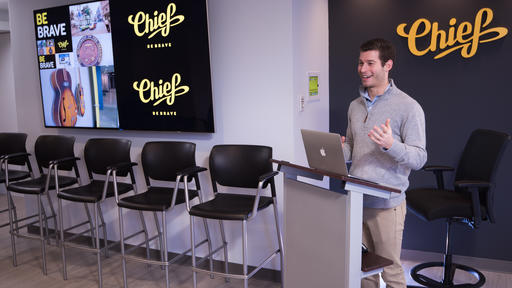 The knowledgeable advisers at the Career Development Center are here throughout your journey at Guilford. We'll sit down with you to explore your interests and plan for the future. We'll help you determine where to go and how to get there.
Exploring possible majors and career options
Connecting with job opportunities
Finding and designing customized internships
Developing your presentation and public speaking skills
Writing your résumé and creating your portfolio
Preparing for interviews and learning professional etiquette
Meeting employers through networking events
Navigating the path to graduate and professional schools and prepping for entrance exams
We also encourage first-year and second-year students to consider the SPROUT Emerging Leaders Experience, a nine-week program where you'll become a skilled communicator, risk taker and team builder.
With our support, you'll have a clear course of action, access to real-world work experience and the ability to apply your Guilford education toward many different paths for professional success.
---
---
---
---
Express Yourself
The Career Development Center regularly offers public speaking courses, practice interviews and even stand-up comedy workshops to help you polish your presentation skills. Recruiters who visit our campus often comment on how well our students present themselves.
83% Employed in 1st Year
Guilford graduates have outpaced the national average for employment during the last six years — by as much as 14%.
Frequently Asked Questions
I haven't selected a major yet. Can you help?
Choosing a major is one of the biggest decisions you'll make at this point in your life. Through a variety of assessment tools and expert coaching and in collaboration with your academic adviser, we will help you pinpoint your interests so you can start exploring your educational options. We'll even devise a plan to keep you on track for reaching your goals. To get started, call 336.316.2187.
How can I find out about internships?
All students and alumni are invited to schedule an appointment with the Assistant Director for Internships. Deadlines and forms can be found on GuilfordNet. For help finding an internship, call 336-316-2187.
Is my major the same as my future career?
Sometimes it's related, but often it isn't. It's a common misconception among students that your major is always going to be the same as the job title or field you pursue after graduation. While Guilford College has some outstanding pre-professional programs such as those in education, business, accounting, sports and pre-health science that are created with professional training in mind, there are many other majors that prepare you for skills that intersect with many careers. Guilford gets you ready for not only your dream career but for a life of meaningful work spanning multiple careers.
When can I start an internship that earns credits?
You'll be able to begin a credit-bearing internship as soon as you have successfully completed 24 credits.
Does the Career Development Center sponsor any career or graduate school fairs?
Yes. Current Guilford students and Guilford alumni may attend the Career Fair during the spring semester and the Graduate School Fair during the fall semester. Both events take place on campus. Please visit Quaker Connect to view all event information.
What online tools does the Career Development Center offer?
Quaker Connect is a powerful way to get employers nationwide to see your résumé. Current students can find additional resources on this page within the Guilford intranet.
Where else can I go to explore my career interests?
These sites are worth checking out:
How will you prepare me for grad school?
The Career Development Center at Guilford College assists students with all aspects of the graduate school process. Our caring and professional staff can:
Assist in your search for the right graduate program
Help connect you with admission test resources (GMAT, LSAT, GRE, etc.)
Work with you on a statement of purpose
Help you refine your résumé or curriculum vitae
Prepare you for the differences between undergraduate work and graduate work
Additionally, we keep current resources on graduate programs in our center. To schedule an appointment, call 336.316.2187.
I'm an alum looking for a career change. Can you help?
As a Guilford alum, you are welcome to all of the same services enjoyed by current students. We encourage you to join us for our annual Career Fair or Graduate School Fair. You can also feel free to call and make an appointment to speak with one of our career advisers.
I'm an employer. How can I post a job opening to Guilford College students and alumni?
You can either create an account to post positions through Quaker Connect or call our office at 336.316.2187.
What resources are available for faculty?
We offer a variety of resources to faculty and instructors for use in courses, including services, materials, tours and presentations.
Contact Us
King Hall, Room 108, Monday to Friday, 8:30 a.m. to 5 p.m. (extended weekday evening hours each semester)
Schedule an appointment with a Peer Career Adviser (PCA) (Walk-ins also available.)
PCAs are available during the fall and spring semesters.
Traditional students (First year - third year) 
Resume, cover letter, online brand review, mock interview and the Professional Development Experience
Karrie Manson
Karrie Manson
Director of Integrated Career Advising