Student-Centered Spaces Taking Shape All Across Campus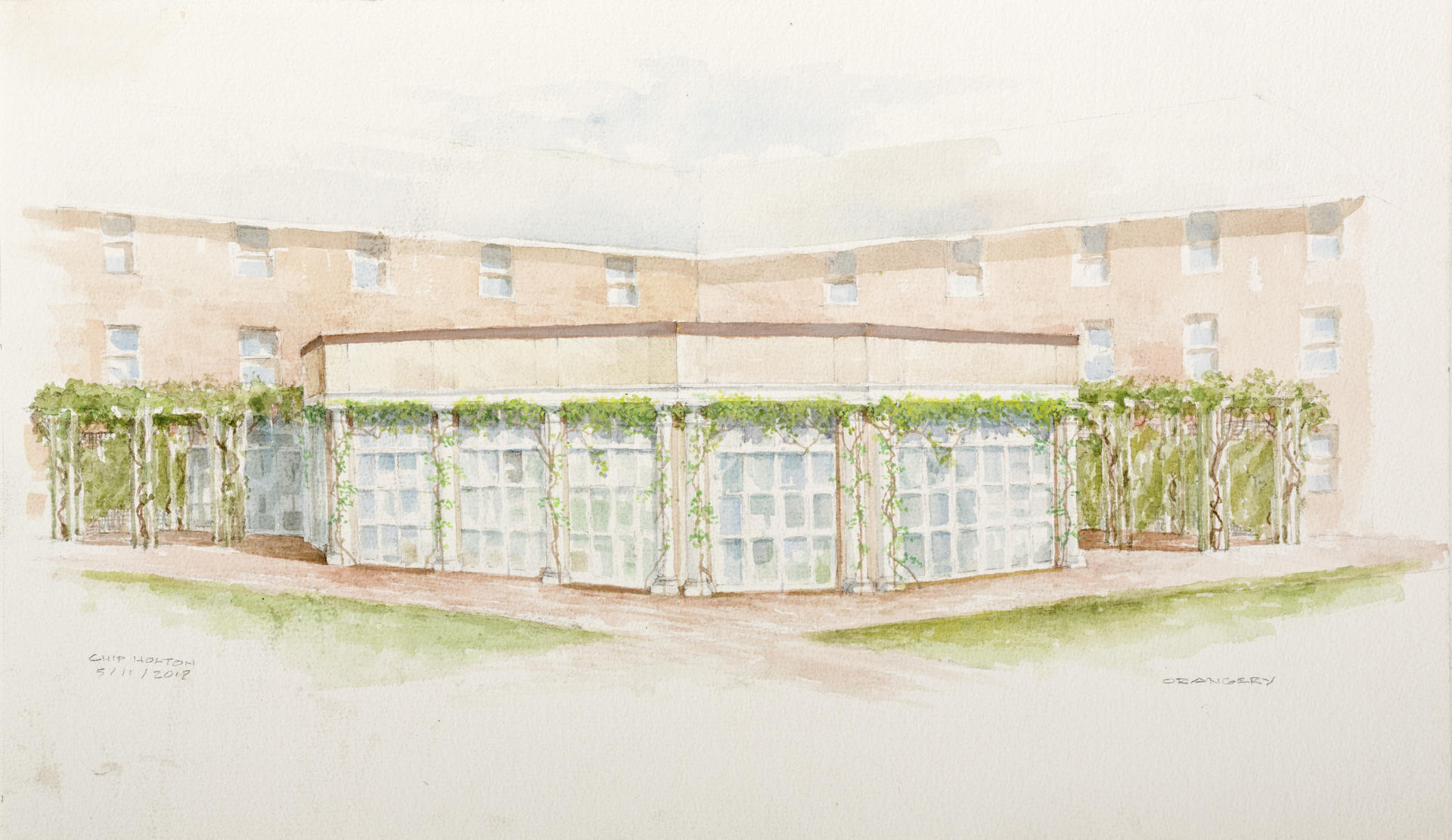 Rendering, by Chip Holton, of the forthcoming Orangerie outside of Binford Hall.
Make no mistake — Guilford College is on the move.
Guilford is undergoing exciting changes to campus! Everything from residence halls to Athletics and Art buildings to campus life spaces are being updated and reimagined. It's an exciting time to be — and become — a Guilfordian. 
"The sum impact of these campus improvements promises to be transformational in elevating the student experience at Guilford College," says Len Sippel, the Vice President of Administration and Finance. "While the projects are diverse in scope and focus, everything we are creating is designed to serve the best interests and desires of our students."
Here's what you can expect to see — and when you can expect to see it. 
The Binford restoration project is nothing short of breathtaking.
Residence Hall Updates
"The Binford restoration project is nothing short of breathtaking," says President Jane Fernandes. "We are preserving precious and impressive elements of the original structure while integrating exciting new enhancements that will literally provide a breath of fresh air to this special place. I think our students are going to love living here." 
Binford Residence Hall: Restoration is in full swing and will be ready to welcome the Class of 2022 when students arrive in August. Binford is being restored to embrace the mid-century modern style of its early days, while being updated with modern conveniences and a renewed commitment to healthy, sustainable living. The Binford restoration has been especially guided by the College's Core Values of community, diversity, equality, excellence, integrity, justice and stewardship. Reuse, restore and life-cycle durability were considered at each design decision. Improvements include:

Fully redesigned rooms, hallways and bathrooms, including gender-neutral rooms and bathrooms, with restored furniture and upgraded marble and tile flooring

New elevators, plumbing, sprinkler system and HVAC that brings in filtered, tempered fresh air

Tech-savvy community lounges and cozy reading nooks with improved WiFi

Facilities and amenities for community members of different abilities, including ADA bathrooms and bedrooms and improved access to community spaces and laundry

Modern demonstration kitchen with sunlit dining spaces

Orangerie: Currently in construction as part of the Binford project, with a completion date of fall 2018, the naturally lit Orangerie will be a community gathering space right off the Quad. Designs include an intimate courtyard and gardens, offering students a place to work and relax.

Milner and Bryan Halls: These residence halls will be closed fall 2018 and 2019 as renovation and construction begins. Details still to come, with projected completion dates for Milner and Bryan in fall 2019 and 2020, respectively.
An example dorm room in the soon-to-be newly restored Binford Hall.
Athletics Facilities Updates
"We are thrilled to build on our legacy of excellence in NCAA Division Three Athletics," says Barbara Lawrence, the Vice President for Diversity, Equity and Inclusion. "The new women's locker rooms and construction of a new softball stadium reflect our ongoing commitment to growing participation and ensuring a positive experience for all of our scholar-athletes. What our women and men contribute to and gain from the D3 experience is extraordinary."
Locker Rooms: In keeping with the College's commitment to provide equitable spaces and experiences for men and women student athletes and coaches, Guilford will add six women's locker rooms and amenities to the Athletics building, all ready this fall.

Second Floor Fitness Studio: New studio space, also ready in fall 2018, will be added to the second floor of the Athletics building. It will provide students with additional opportunities to engage in such wellbeing activities as yoga, dance, Tai chi and more.

Athletics Building Entryway: This addition, ready for fall 2018, will prominently display College pride and spirit for the Quakers with glass doors and windows, framed by "Home of the Quakers" text.

Softball Stadium: Construction is projected to begin this fall and be completed in spring 2019.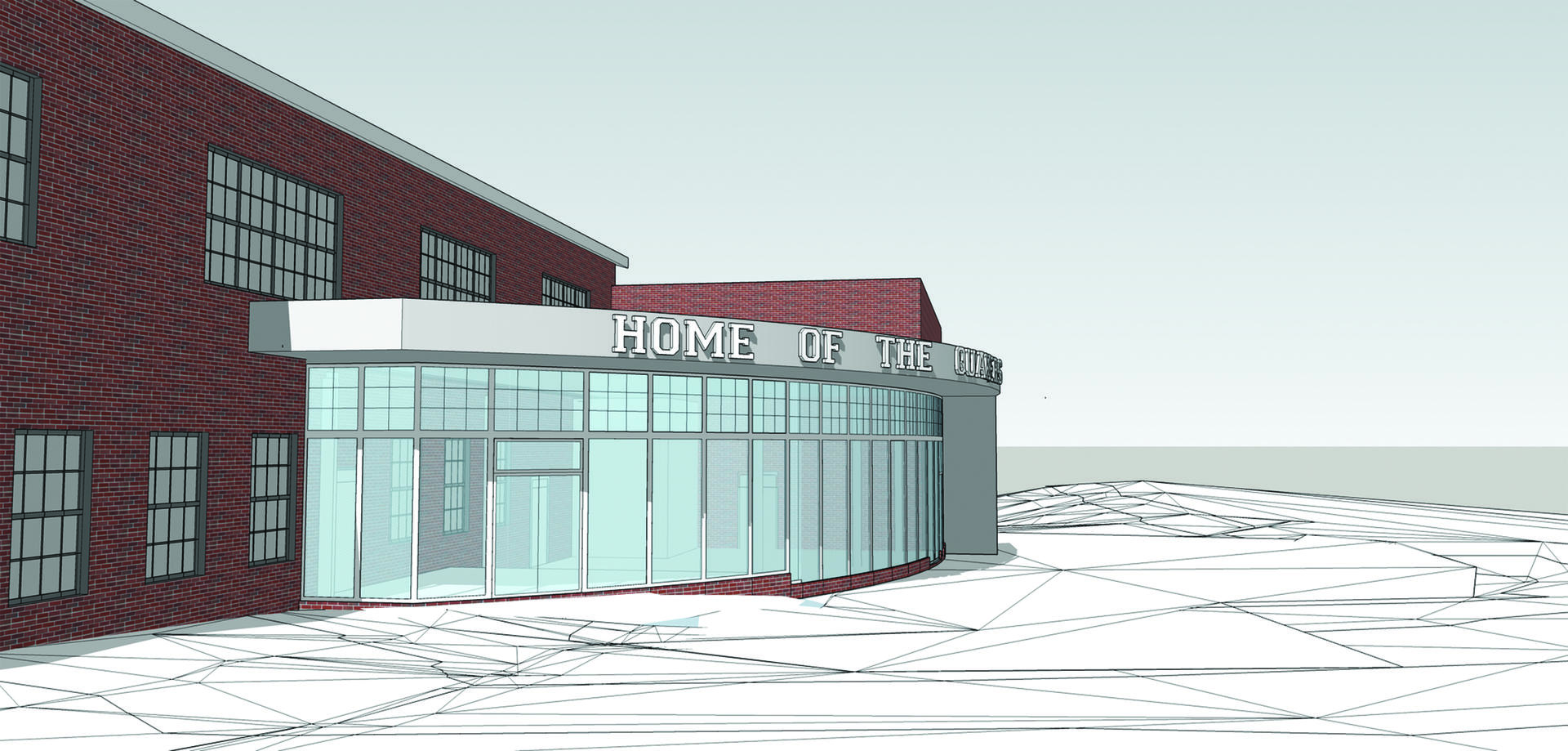 Rendering of the new Ragan-Brown entryway
Academic and Campus Life Space Updates
"Guilford is blessed to have an immensely talented faculty that has mentored and inspired generations of rising artists," says Frank Boyd, the Vice President for Academic Affairs and Academic Dean. "These new facilities will provide more dynamic learning spaces for creative expression and allow us to shine a brighter light on the remarkable work of our faculty and students."
Hege-Cox Art Building Complex: Once a dormitory, Hege-Cox will get the renovation it needs to feel like a fully fledged artistic and academic space. Updates and additions, which will be ready fall 2018, include:

Vibrant art gallery

Fully equipped ceramics and sculpture studio

Senior studios — spaces dedicated to senior Art majors

Outdoor classroom and student work areas

Tech-savvy collaborative classroom
Dining Room Renovations: The Cafe will receive updates including a redesigned kitchen with updated equipment and new furniture and fixtures for the dining hall, all ready in fall 2019.

Founders Hall Terrace: Students will have more outdoor dining options with this addition, which will overlook the Quad while providing a vine-covered dining experience. Completion is expected in fall 2020.

Founders Hall Plaza and Gazebo: Comfort and beauty are coming to the front porch of Founders Hall in summer 2018, making the area a friendly, welcoming and comfortable spot for the College community and its guests. Think of it as "front porch sitting" overlooking the Quad. Features include a vine-covered gazebo, native summer shade trees, night-lighting and rocking chairs handmade in North Carolina.

The Boiler Room: This highly programmed space, expected to be ready in spring 2019, will be a space buzzing with student activity. Envision such activities as morning yoga on the rooftop terrace and improv comedy or jazz on the stage, as well as outdoor activities including sand volleyball, outdoor chess, pingpong, outdoor movies — and more.

Outdoor Classroom and Activities Space: The outdoor classroom on the Quad will offer tiered and grass seating, student meeting and performance space, and more. Project completion date is still to be determined.

Lake Revitalization: The College Lake will undergo a revitalization during the summer of 2018 that will include restoration of the ecosystem and introduction of appropriate fish; cleaning and addition of retention-filtration ponds; and a redesign of the overflow pipe. The project should be complete for fall 2018.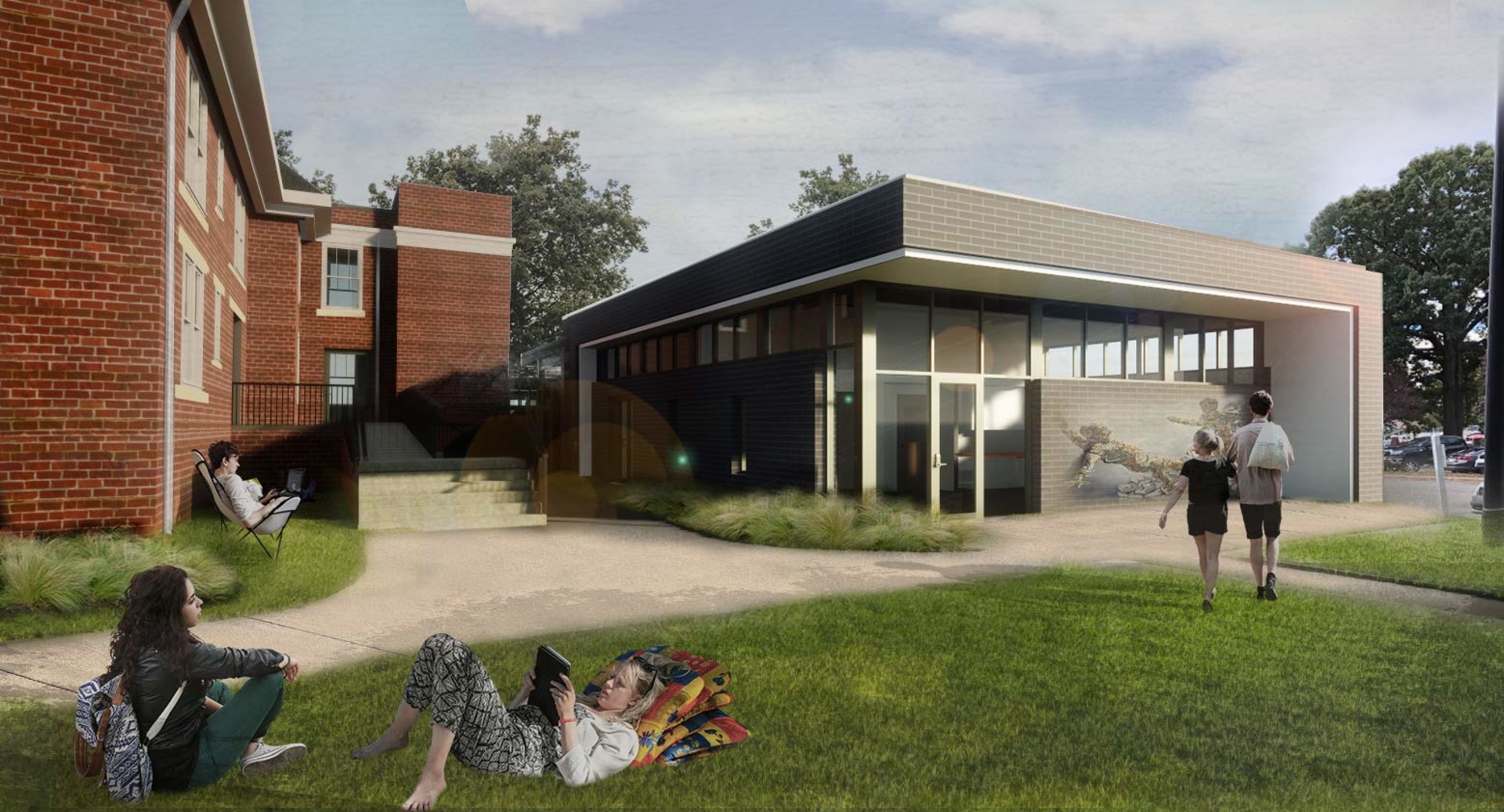 Hege-Cox Art Complex will be adding two, stand-alone studios for ceramics and sculpture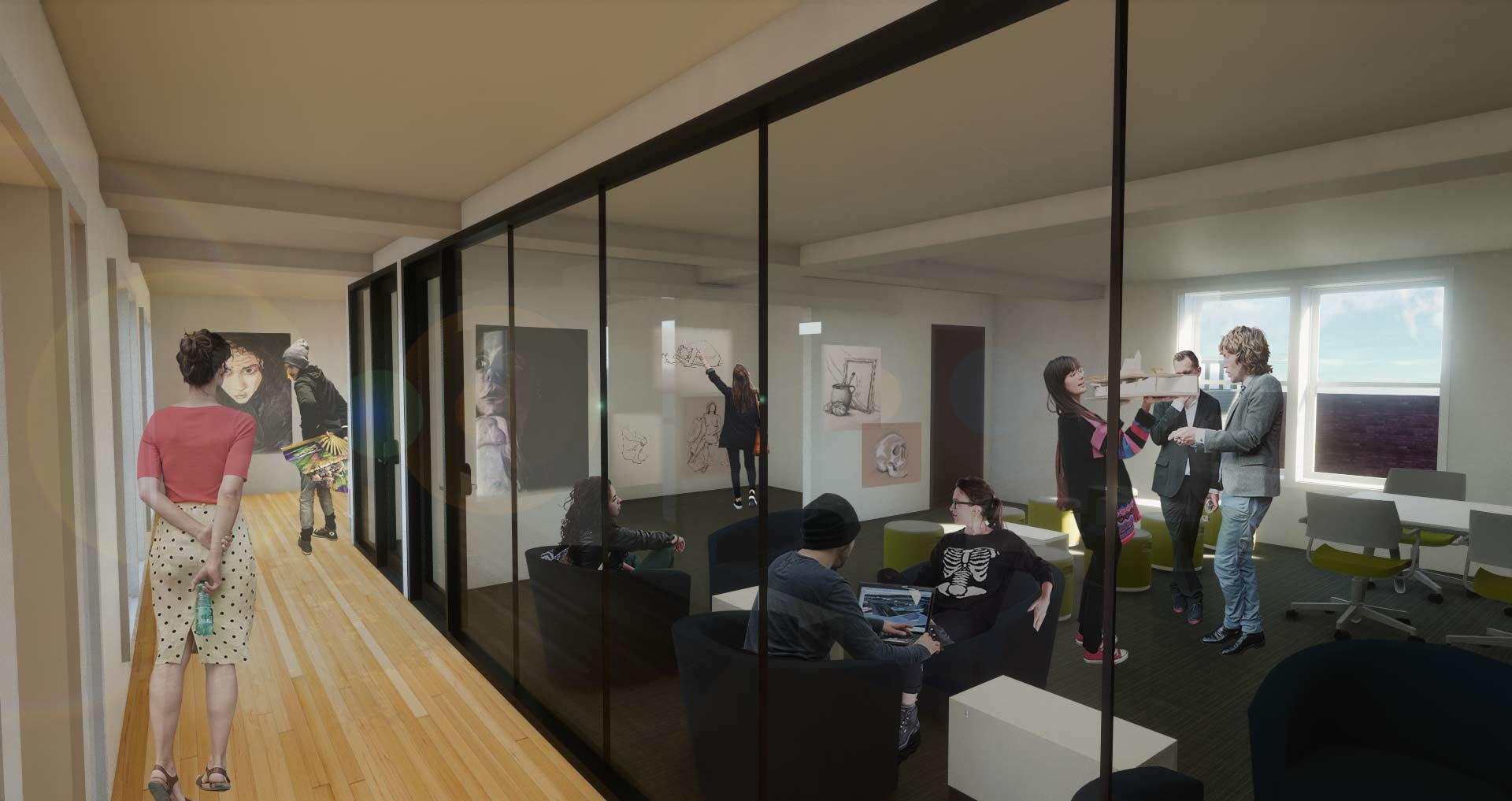 Rendering of the Hege-Cox collaboration studio
"Make no mistake — Guilford College is on the move," President Jane says. "We are dedicated to being on the leading edge of game-changing innovation in higher education. The energizing facility enhancements all across campus are really just the beginning of our bold journey to deliver a fully reimagined educational journey at Guilford. I look forward to sharing more about that in the weeks and months ahead."
Follow Guilford on Facebook, Instagram and Twitter to see more photos and stay in-the-know on these exciting projects and more.
---